New York Fashion Week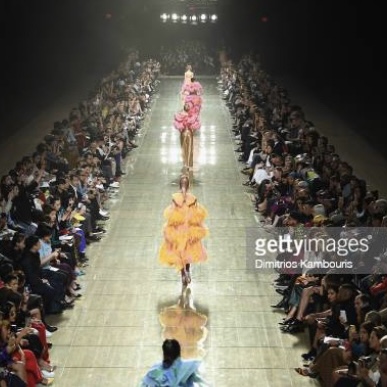 New York Winter Fashion Week began February 11 and ended the 18th; this is a massive event for everyone in the fashion industry, with many new and creative styles making it one of the best shows.
Feather-like clothing is becoming huge in the fashion industry. Model Tia Adeola wore a phenomenal feathered dress. Many clothing and accessories with feathers have been even more popular since then. Although it is unclear if these luxe feathers are real or not, it makes us question how animal activists would react to this.
Suits on women have been seen in such an elegant and fashionable way, with models like Ashlyn and Staud. These past years suits on women have been a chic statement. They are trending in many fashion shows, and they keep improving throughout the years.
This year, fluffy clothing and accessories were the stars of the show. Model Christian Cowan wore a beautiful black suit-like dress with white feathers outlining the slit. Many feather-like accessories were also seen throughout the show, things like purses, bracelets, earrings, shoes, etc.
Celebrities that attended the show made a bold fashion statement and looked phenomenal for fashion week. Hari Nef wore a bright orange suit accessorized with a bright orange purse, and people loved the bright colors she used. Model Bella Hadid attended the show and wore black layers of clothing for her top and sweat-like bottoms. Many other female celebrities were seen wearing suits. This made a bold statement with a classy and professional look.
Overall, the New York Fashion Week of 2022 was a huge success. All the designers and models did a good job. This fashion week, everyone made a statement for themselves with their bold clothing making it one of the best fashion weeks.