Downtown Anaheim's Farmers Market
Downtown Anaheim provides residents with a variety of fun activities to take part of.  Many small businesses also take part in this scene, as Anaheim is known to support and appreciate them and their hard work. One of the many activities Anaheim hosts includes the Farmer's Market.
 This Farmer's Market provides customers a tranquil local business shopping experience. It is hosted every Thursday from 11 am to 3 pm and is located at 435 W. Center Street Promenade, Anaheim, CA 92805. Free parking is available around the center and a 2-hour free parking is also available in Parking Structure 3 (Lehman & Anaheim) with ticket and validation. Cash is preferred, but certain vendors do accept card. ATMs are also available outside of Anaheim ICE and inside Good Food.
At Anaheim's Farmers Market, there is something for everyone in the family to enjoy. There are a variety of vendors, including crafting, dining, and agricultural small businesses. 
Crafting

Dining

Agricultural

Andes – Peruvian Apparel 

AVON – Makeup 

Ian's Farms 

 Victor Gonzalez – Oranges/Citrus
One of these small businesses includes Candy Girl Designs, which is owned by Stephanie Estrada. Her favorite part of owning a business is the fact that she is her own boss and does not have to work or answer to anyone. Estrada's products include towels, tote bags, zipper bags, wine bags, coffee mugs, savings jars, and wine glasses.
All the products have unique funny sayings and quotes that she comes up with on her own. The main purpose of her business is to make people laugh, because her favorite part of Anaheim is the community and the people. She loves interacting with people and is always welcoming new customers. All her socials go by the username Candy Girl Designs.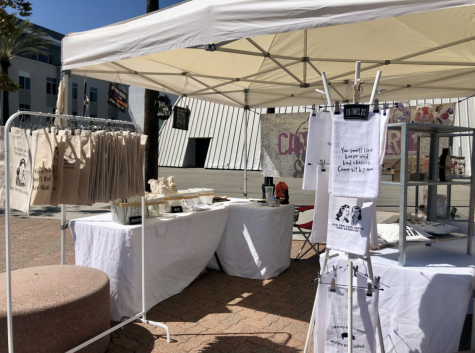 An agricultural business in this Farmer's Market is Rosebud Homegoods. This company is co-owned between Cougan Hobbs and his partner, Zac Elam. This business, based on 3D printing plant vases, was started in 2020 and is now in about 300 different plant shops with about 400 sold according to Cougan Hobbs. There are a total of about 30-40 different types of plants, and most are indoor-friendly.
The price range for their products is from $15 – $30 depending on the size of the vases. The materials for the 3D printing come from Pennsylvania, and are sourced from earth-friendly materials such as corn. According to Hobbs, their business goal is to open a storefront here in California. Their social media accounts and website all go by the name, Rosebud Homegoods.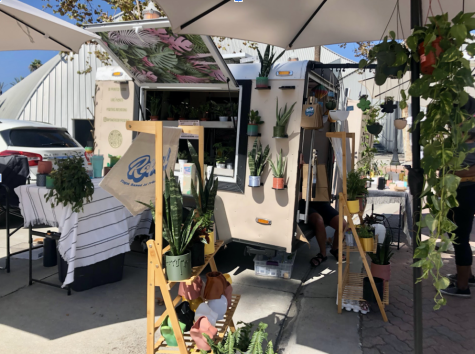 Hungry Monkey Eats is a business that offers an original and natural dining experience. The owner, Jeff Tappenden, considers himself a small-batch artisan food producer.  His business offers homemade, natural almond butter, and offers three flavors including Regular Almond Butter available in dark or medium roast, Almond Honey Butter, and Almond Date Butter. Jeff Tappenden is welcoming to all customers, including new and repetitive customers. His businesses' website and social media accounts go by his company's name, Hungry Monkey Eats.