Teaching is Leaving a Mark on a Person's Life.
Imagine a man helping English learners from different countries; Mr. Belyea was a brave man who taught and supported all of them for many years; there are not enough words or feelings to dedicate him for expressing what he did for us, Mr.Steven Belyea was and will always be in our hearts.
During high school, as young students, a teacher's love, advice, and teaching leaves an impression on us.  These are the most important things we could learn from someone who wants the best for us. Mr. Belyea, also known as "Mr. B" by his students, was an ELD teacher that recently retired after many years in the profession. I can't imagine how hard it was to deal with technology during this pandemic. But, when we had in-person classes, he used to do many activities such as having colorful name tags, presentations about ourselves, and school-related games to make one feel comfortable. No matter how fluent or not fluent one was in English, he would always help us pronounce difficult words.
Along with Mr. B, there were two more teachers who worked with him. Mrs. Le-Todd, who teaches English 1 and ELD 3, shares how she got to know him and their relationship as teachers, "I got to know him as a colleague working here at AHS. I got to know him better when he became ELD Department Chair a few years ago." Said Mrs. Le-Todd. So, I asked her if she can recall a special moment, "I can recall two specific times when I really enjoyed and appreciated working with Mr. Belyea. Once, a few years ago when the department had to run a workshop for other teachers. Mr. Belyea had a humorous way of talking to people that puts them at ease. Another time was when our department was conducting a workshop on Kami. I appreciated his hard work, camaraderie, and willingness to share the credit. It's what everyone appreciates in a colleague."  
 Mrs. Le-Todd adds a personal memory. "Mr. Belyea often talks about his sons and a daughter. He is quite proud (and rightly so) of his children's achievements. They have done very well in school."  Mr. B was an essential and unique teacher in our high school. "Before he was ELD Chair, he was also a reading teacher, a Lesson Design Specialist, and he also worked on WASC. Mr. Belyea had many positions, and some jobs he took on were difficult or specialized. I admire him for being a hard worker and willing to do whatever it took for the betterment of the school and especially students." Shared Mrs. Le-Todd. In addition, she commented about the legacy that Mr. B is leaving behind, "Mr. Belyea is the teacher, colleague, and friend whom everyone likes. He leads by example and accomplishes what many others aspire to. He will be missed, and I wish him a long and enjoyable retirement."
 Mrs. Lang, ELD/English Teacher, agreed to an interview for our tribute. Mrs. Lang met him three years ago when she started working at Anaheim High School. She recalled a special moment, "Every moment has been special. Mr. B and I often share and discuss the progress of our students together. Mr. B is the nicest person and truly made the students feel welcome." Mrs. Lang is part of the Cross-Country Team in our high school, and she shares that. "Mr. B always supported our Cross-Country team. He came out to cheer on the athletes and help proctor the course." She said.
There are many reasons Mr. Belyea was an outstanding teacher and friend. "Mr. Belyea is the 'face' of America and AHS for our new coming students. He is the first teacher our newcomers met, and therefore the most important. His welcoming of our new students helps them to feel safe in their new environment. His reassuring smile tells them that everything will be ok." Shared Mrs. Lang. Adding on to this, Mrs. Lang wanted to share her thoughts about the legacy he is leaving for our teachers, "Mr. B's ability to create rapport and use of technology in the classroom holds up the bar for all of us. He certainly makes students feel comfortable using tech as they learn English. I don't know how his knowledge in this area could be replaced."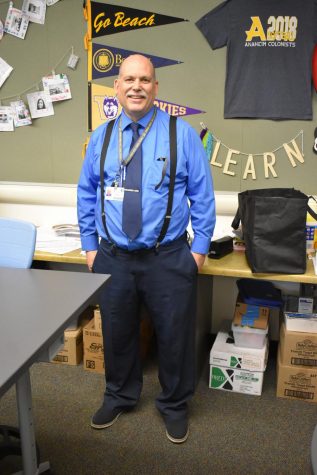 My goal in writing this letter is to make my ELD teacher Mr. B proud, happy and grateful for every day he went to his classroom to teach his class. I'm so grateful for your unconditional support and friendship as a teacher. I wish I could have thanked you in person as I used to shake hands with you. Unfortunately, It would instead be through this tribute, but I hope to convey a true feeling of gratefulness and happiness. Your wisdom and teaching were part of my English learning as well as Mrs. Lang and Mrs. Le-Todd. Thank you for everything, Mr. Belyea. I wish you a great retirement and happiness around your loved ones.