Nochebuena en 'The House of Chimney Cakes'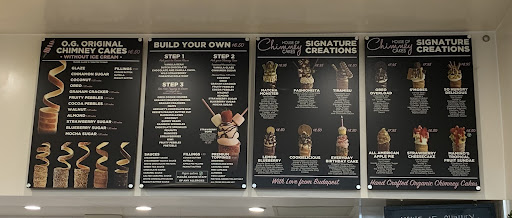 Localizado en 173 W Center Street Promenade en Anaheim, La 'Casa de Chimney Cakes' se encuentra con el brillante letrero en rosa y negro. La tienda tiene 12 creaciones nuevas originales, y tuve el placer de probar el CookieLicious. 
Al entrar a la tienda,  el olor de nieve, galleta y pastelitos te llenan la nariz. La tienda se parecía a una factoría de Santa, con música, decoraciones y aromas festivos. Pero debíamos esperar afuera de la tienda por nuestra nieve para seguir con las regulaciones de covid. Esto dejó la tienda con una larga línea ya que la tienda solo tuvo poco espacio para los clientes que ordenen.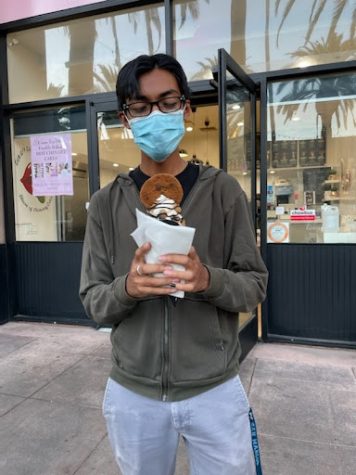 Yo ordené el CookieLicious que costaba $8.50. Era una nieve en cono y cubierto de chocolate. La nieve también tenía cookie dough bites y una galleta sobre todo el cono. Cuando lo probé por primera vez, la galleta y nieva funcionaron perfectamente con el cookie dough. Cada probadita era como si estuviera comiendo una galleta grande recien hecha. 
Pero la nieve después de la galleta era mas dificil para comer. El contenedor en la que venía la nieve no permitió terminar la nieve sin usar una cuchara. En mi opinión la nieve no se puede disfrutar si necesitas una cuchara para comerla. La nieve estaba dentro de un panecito, dejando un desorden en las manos cuando terminas de comer. 
En mi opinión el restaurante, nombre, y servicio es unos de los mejores que he visto. La tienda podría tener más libertades en cómo presentar la nieve, pero la nieve sola es fantástica para comer. Yo recomendaría "The House of Chimney Cakes" como una tienda de nieva perfecta para familias que quieren algo rápido, divertido y único.