Why are the Lakers Struggling?
The Los Angeles Lakers were the favorites to win it all at the beginning of the season. Everyone believed that was because they were being led by four times NBA champion, four times NBA Most Valuable Player, and 18 times NBA All-Star LeBron James… one of the best basketball players of all time. The Lakers also have some help from Anthony Davis, Russell Westbrook, and veteran players such as Carmelo Anthony. These are some heavy weapons the Lakers have. After acquiring Russell Westbrook, everyone believed that LeBron, Westbrook, and AD (Anthony Davis) would be the next best big 3. Unfortunately, they haven't worked out since they haven't figured out how to improve their team chemistry.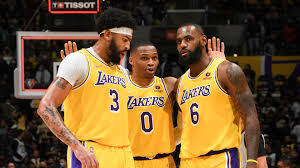 They have a losing record (29-40). One of the main reasons the Lakers are struggling is because the AD hasn't been reliable. He has been struggling to stay healthy, and AD was supposed to carry the franchise for years to come alongside LeBron James. He has missed a decent amount of games due to an MCL injury. Before his injury, he performed amazingly in 2020 and helped LeBron and the Lakers win a Chip. 
Another reason the Lakers are struggling is that they thought signing Russell Westbrook and Carmelo Anthony would help them win games. After AD went down, Russell Westbrook had to step up, but It hasn't worked out for him. His defense and cold shooting probably contribute to the Lakers' struggles. His current stats are (17 points, seven rebounds seven assists). On the other hand, Carmelo has been making decent numbers coming off the bench (13 points, four rebounds, one assist). LeBron is not getting the help he thought he was going to get. He is the leading scorer on his team, averaging 29 points, eight rebounds six assists. On March 2, ​​LeBron said he is still confident his team has a chance to improve on their standing. Brandon Blackbear, a student at Anaheim High school, said he believes the struggles of the Lakers are due to Coaching and chemistry. He said the team didn't perform well as it should have been, and the team was full of injuries. Adrian Barrios, an Anaheim high school basketball player, said that the Lakers should trade away their roster and bring Alex Caruso and Kyle Kuzma back.