Lebron James Breaks All Time NBA Scoring Record
The most asked question going into Tuesday Night was if Lebron James could score 36 points, so he could break Kareem Abdul-Jabbar's career NBA scoring record. Kareem Abdul-Jabbar was in attendance at the Lakers vs Oklahoma City Thunder game to watch "The King" Lebron James break his record, even though the Lakers lost 133-130.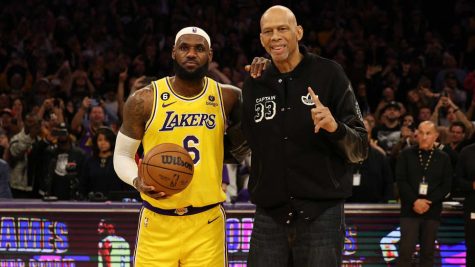 After the game was done, Lebron James now has 38,390 points and left Kareem Abdul-Jabbar with 38,387 points, but Lebron James is still going to be racking up points until the day he retires from the NBA. Lebron James sank a 21-foot turnaround with 10.9 seconds left in the third quarter at Crypto.com Arena, giving him 16 points in the period, the necessary 36 for the game and 38,388 for his illustrious career–now more than any other player in NBA history. Kareem Abdul-Jabbar had the highest points in NBA history for 38 years, and nobody has ever been able to break it until Lebron James' amazing game to surpass him.
As the game came to a halt to celebrate a record that so many thought would never be reached, an emotional James broke down in tears. Lebron James was asked after the game ended about how he felt once he hit that shot, and he said, "Tonight, I actually felt like I was sitting on top of the arena when that shot went in, and the roar from the crowd. I'm not sure if I would be able to feel that feeling again, unless it's a game-winning Finals shot." James, an Akron, Ohio native, scored his first NBA points on October 29, 2003, when he made a jump shot against the Sacramento Kings as a member of the Cleveland Cavaliers, the team that drafted him.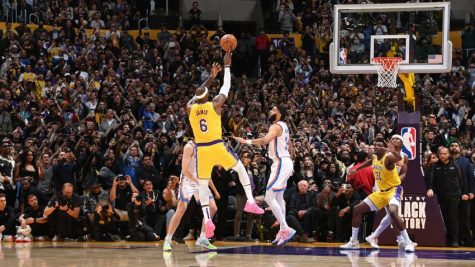 Now 20 NBA seasons later Lebron finally stands on the top of the mountain by himself. Wednesday afternoon, President Joe Biden congratulated Lebron James on breaking the NBA all-time scoring record, but he wasn't the only one, Lebron James' family and every NBA team congratulated him on breaking the record. Ticket prices to see James break the record had soared to more than $69,000 for Tuesday's game against the Thunder, and a pair of tickets surpassed $106,000 for Thursday's game against the Milwaukee Bucks, according to Vividseats.
James has vocalized his wish to play with Bronny, his son, in the NBA, which would make them the first active father-son combo in league history. Lebron James will still be trying to achieve greatness and break more records before he retires and ends his career as one of the greatest basketball players of all time.