Anaheim High School Football: new goal and season
As they enter the 125-year anniversary of Anaheim High School, the Anaheim High School football team looks to continue its success from their CIF run from the previous year. Anaheim High School football trained throughout the summer, and they will get extra work on their own to prepare for the 2022-2023 season. 
The Anaheim High School football team was starting off pre-season on the wrong foot. Their first game under the lights took place on Sep. 26, 2022, they faced off against Troy High School football team. The starting quarterback for that game was Ernie Soto,"He started playing this school year." The game took place at Fullerton High School stadium where they fought their hardest but didn't come out victorious with a defeat of 49-0. Now it was time to get back onto the training ground to fix the mistakes that took place in the game.
On Sep. 2, 2022 Anaheim football team were up against Rancho Alamitos High School for their second pre-season game. It took place on Friday under the lights and the Anaheim High School first home game at Glover Stadium. There was so much school spirit that day for Anaheim High School because everyone was excited for their first home game. The Anaheim football team was trying to find a way to get back on track, but they ended up digging a bigger hole for themselves and they ended up losing 24-13.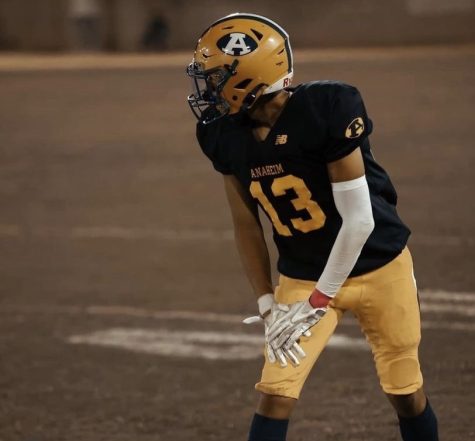 The fans were looking for answers following what's going on with the Anaheim High School football team. David Reese is a part of the coaching staff for Varsity, and he has been coaching for 17 years for Anaheim High School, a total of 26 years, and he told us, "They should expect that they play their hardest because there's a very long extinguished tradition here at Anaheim that they expect them to go out there and compete every single game."
Reese also stated, "They train 11 to 12 hours a week." This shows how determined our Anaheim High football team is to win.
It was week 3 of pre-season and onSep. 09, 2022 they were up against Westminster High School, and it was another home game at Glover Stadium. They were up against a tough team who won their first two games by a lot and our Anaheim football team went out there on the field with a mission of getting a win. Anaheim High School never fails to show school spirit and show support towards our team. The Anaheim High School football team didn't come out victorious that night, with a score of 48-0.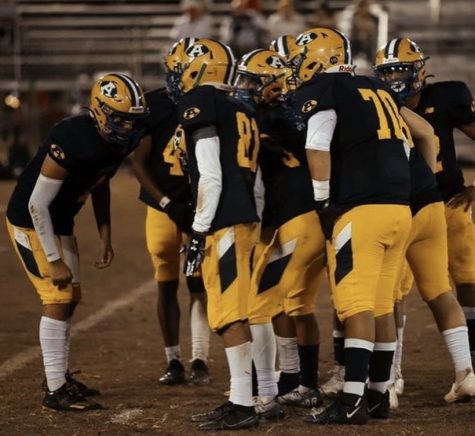 Alexander Mora is a starter on the field who plays wide receiver and also plays DB. He's been playing for a year and a half, and it's his second season. Mora has some words to say on the results of these past games and he said, "Our minor mistakes and also offensively we need to work on our hands and communicate on the field." Another question is if the team disciplines themselves to do better and he said, "Yes we discipline ourselves to be on time and not to miss practice or else they don't get to wear their jersey on game day."
It was week 4 for Anaheim High School football team and on Sep. 16, 2022 they were away but they were playing at Glover Stadium against Loara High School and it was their homecoming and special night for them but forus it was time to go to war and come out with a win. The game started tough with the score being tied 7-7 in the first quarter and but then Loara ended up taking the lead in the second quarter. It became difficult for the Anaheim High School football team to put up points. It was a tough loss with the score of 7-26 and now it's getting difficult. They are going to have to fix their problems before the season starts against Savanna High School on Sep. 30, 2022 at Glover Stadium.