Anaheim Colonists Softball
The Anaheim High School Varsity Softball team has been league champions for the last two years; the softball team ranks in Division 5; in the 2019 season, the team made it to the third round of CIF; with the team's improvement in the last few years, the team has gone up divisions, demonstrating their improvement.
Diana Ureño, a senior at Anaheim high school and a softball team member, shares that she has grown up playing with a passion for softball. She states, ¨What got me playing softball was my dad, everyone on my dad's side of the family has played either baseball or softball, and that is the sport that our family loves, so growing up, he wanted to put me in softball¨.
Diana has been playing for Anaheim High School since her freshman year back in 2019. Her position on the varsity softball team is left field. ¨The best memory that I've had with my team is winning league champs my freshman year, and it was against Katella, and that was a big win for us because it was our last game of that season, and whoever won between that game was going to win the league,"
When asked about her most significant accomplishment, she said, ¨My biggest accomplishment as a softball player was making the varsity team my freshman year. Going into high school, I always thought it would be so cool to make varsity, but I never realized that I would stand out to the coaches enough to make the team¨. Over the years of playing at Anaheim High School, the challenges have taught her to become a better player and hold on to the great memories.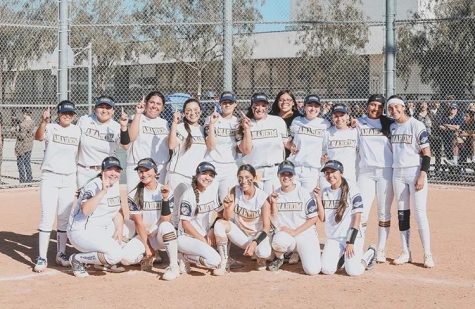 This season, Diana is looking forward to playing her last year of high school with all her teammates. The whole team has a very close bond which makes it fun to play the sport with each other. She is excited to make more memories with her team and hopefully win the league and make it to CIF. She states, ¨I definitely think this year will be one to remember, and I can't wait for games and our bus rides."