De refugiado de guerra a mejor jugador del mundo
Hang on for a minute...we're trying to find some more stories you might like.
Después de haber dominado por una década el delantero de FC Barcelona, Lionel Messi y el delantero de Juventus, Cristiano Ronaldo, perdieron ante el mediocampista de Real Madrid y la selección de Croacia, Luka Modrić ganó el Ballon d'Or de 2018.
Que es el Ballon d'Or?
El Ballon d' Or ha sido un premio dado por la Federación de Francia desde 1956. El premio estaba restringido solo a los jugadores europeos hasta 1995, cuando cualquier jugador en un club europeo podía ganar el Ballon d' Or. Pero desde 2007, el Ballon d' Or se extendió a todo el mundo. Hay una lista de 30 nominaciones en que los editoriales de las revistas francesas y los periodistas del todo el mundo eligen al ganador. Hay un representante de cada país.
Porque es histórico?
La importancia del Ballon d' Or de este año fue que otro jugador, además de Messi o Ronaldo, ha ganado el premio desde 2008. El último jugador que le ganó a Messi o Ronaldo fue la leyenda brasileña Ricardo Izecson dos Santos Leite, también conocido como Kaká.
El camino hacia el premio
Luka Modrić nació en Zadar, Croacia, donde creció durante la Guerra de Independencia de Croacia. En 1991, la guerra se intensificó y su familia se vio obligada a huir de la zona. Su abuelo, con quien Luka pasó la mayor parte de sus primeros años, fue ejecutado por rebeles serbios. Cuando huyeron de la zona de guerra, su casa también fue incendiada. Modrić después ingresó al ejército de Croacia como aeromecánico. Durante este tiempo, miles de bombas cayeron sobre la ciudad de Zadar. Con toda la devastación de la guerra, el fútbol fue su manera de escapar de la realidad. A la edad de 16 años en el 2001,se mudó a un club de fútbol llamado Dinamo Zagrebun. Modrić luego firmó su primer contrato a largo plazo en la temporada de 2005-2006. En abril del 2008, fue firmado por uno de los mejores equipos de Inglaterra, Tottenham Hotspurs en la Liga Premier
Modrić tuvo un comienzo lento en Tottenham. Sufrió una lesión en la rodilla al principio de su carrera con los Hotspurs. Fue criticado por ser muy débil para la Liga Premier por los medios de comunicación e incluso el director técnico del Arsenal, Arsène Wenger. Modric respondió que "los críticos te empujan para mostrarle a la gente que están equivocados…Tal vez parezco débil, pero mentalmente soy una persona muy fuerte." Luka Modrić después demostró que era un mediocampista clave durante la temporada. En las dos temporadas, ayudaría al Tottenham a alcanzar su primer UEFA Champions League. Modrić luego fue firmado bajo el Real Madrid en agosto del 2012 y recibió mucha crítica; la gente comentaba que era la peor firma de la temporada. Una vez más, demostró que estaban equivocados, ganando 4 UEFA Champions League en 5 años.
Durante la temporada del 2017-2018, Luka Modrić ganó la UEFA Champions League, el Mejor Jugador Masculino de la FIFA, FIFPRO World XI, también llevó a su selección Croata a las Finales de la Copa Mundial, ganó el Balón de Oro y Mejor XI de la Copa Mundial. Ahora ha ganado el Ballon d'Or.
Vivió como un refugiado de guerra en su infancia, fue criticado como muy débil para el fútbol, fue considerado como el peor jugador de la temporada, pero ahora tiene el título como mejor jugador del mundo.
About the Writer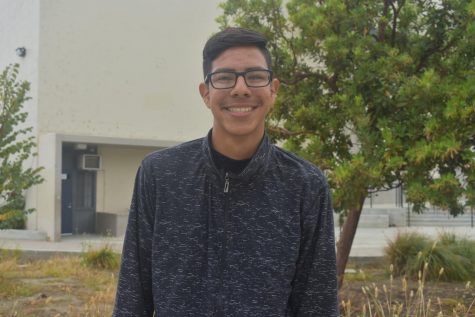 Alexis Lopez, Reporter
Alexis Lopez is a senior at Anaheim High School. He is from Santa Ana, CA and raised in Anaheim, CA. He is involved in Cross Country and Varsity Track...