30th World AIDS Day: A Fight Against Ignorance
Hang on for a minute...we're trying to find some more stories you might like.
December 1st, 2018 marked the 30th anniversary of World AIDS Day, an opportunity for people to raise awareness about HIV. World AIDS Day unites people to fight against HIV while showing support for those living with HIV and commemorates those who have died from HIV or any other AIDS-related illness. A common tradition is to wear an HIV awareness red ribbon.
This year's theme, "Know Your Status," urges people to get tested before it becomes too late to treat. Many people get tested after experiencing the symptoms of HIV thus undermining the effects of the treatment once started. One million people die every year from HIV because they are not informed that they have been infected or they have sought treatment too late or not at all. According to WHO (World Health Organization), 1 in every 4 people with HIV does not know they have it. There were 36.9 million people worldwide living with HIV/AIDS in 2017.
Worlds AIDS Day was planned in 1987 by two information officers, James W. Bunn, and Thomas Netter, who worked for the Global Programme on AIDS at the WHO in Switzerland. The idea was taken to the director of the Global Programme on AIDS (now known as UNAIDS), Dr. Jonathan Mann. The event was approved and planned for December 1, 1988, and has taken place on that day every year since it was first launched.
It is believed that the HIV epidemic originated around 1920 in Kinshasa, the Democratic Republic of Congo when HIV was passed from chimpanzees to humans. Prior to 1980, people were baffled as to how they started to become infected with HIV or other AIDS-related illnesses. By 1980, HIV had already spread to five continents–North America, South America, Europe, Africa, and Australia–and infected between 100,000 to 300,000 people. In 1981, five gay men living in Los Angeles were diagnosed with a rare lung infection called Pneumocystis carinii pneumonia (PCP) and some men in both New York and California were reported to have aggressive cancer named Kaposi's Sarcoma. By the end of that year, there were 270 reported cases of severe immune deficiency among gay men, those of which 121 had died. This spurred a belief that AIDS was a punishment for homosexual behavior given from God and was deemed the name GRID (Gay Related Immunodeficiency Disease).
Despite being the most affected demographic by the virus, campaigns refused to address homosexuals directly in order to offer advice as to how homosexual intercourse could be made safer. The LGBTQ+ community faced discrimination and hostility. Some employers began to fire those who became sick with AIDS thus raising the percentage of homeless people due to the lack of money for a home and medical costs. In addition, shame and discrimination prevented some from seeking treatment. Realizing that no one would take action, the LGBTQ+ community quickly stepped up. This sparked the creation of organizations including the Gay Men's Health Crisis in New York City in 1981 and the San Francisco AIDS Foundation in 1982. The lesbian community became allies with the cause and began to rally for the gay male community. The gay community advocated for funding for research to look for methods of prevention and treatment using political influence and media.
Famous for composing chart-topping hits such as "Killer Queen" and "Bohemian Rhapsody" for the British rock band Queen, Freddie Mercury (born as Farrokh Bulsara) was diagnosed with AIDS in 1987. Despite his declining health, Mercury continued to persevere and perform as well as continuing to break gender stereotypes by rejecting the ideas of masculinity. Mercury had announced his condition a day before his death on November 24, 1991. Freddie Mercury stated, "I hope that everyone will join with me, my doctors and all those worldwide in the fight against this terrible disease." In Mercury's memory, a charity organization named the Mercury Phoenix Trust was initiated to fight against the global battle against HIV and AIDS. Every year, Montreux, Switzerland hosts Freddie For A Day, a weekend-long celebration in memory of Freddie Mercury's life to raise funds for the Mercury Phoenix Trust. Freddie Mercury's death, along with other famous celebrities, caused by HIV/AIDS sparked media attention and made it clear that the illness was affecting various people with different sexual orientations.
After realizing that HIV/AIDS could be spread to heterosexuals and not just homosexuals, more people began to support the prevention of HIV. Activism tended to be organized in coastal cities where it was more urban and more common for homosexuals to be open; however, it quickly spread to rural areas of the United States. Advocates addressed the problems such as those related to discrimination in the workplace. Funding for research began to rush in with the increase of awareness of the illness thus began the start of the fight against ignorance and a healthier future.
For more information on World AIDS Day or ways that you can support the cause on other days of the year, visit www.worldaidsday.org and learn more about the fight against HIV/AIDS and get involved!
Sources:
http://www.who.int/who-campaigns/world-aids-day/world-aids-day-2018
About the Writer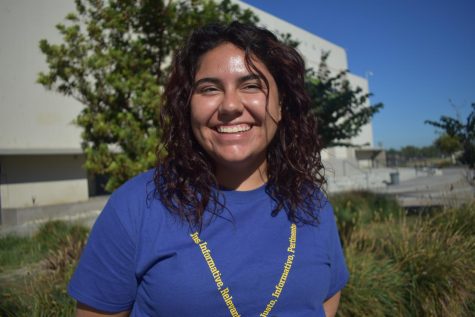 Melanie Cervantes, Reporter
Melanie Cervantes creció en Anaheim, California. Ella tiene dieciséis años y cursa su  último año en Anaheim High School. Ha sido parte del Dual...