Who Is Olivia Rodrigo?
Everyone has their first love at some point in their life. Little did the world know that the passion for singing of a young girl who grew up in Temecula, California, would impact the music industry. 
On February 23, 2003, Olivia Isabel Rodrigo was born in Murrieta, California, to two loving and supportive parents, Ronald and Sophie Rodrigo. As Olivia started growing up and entered kindergarten, the pair enrolled her in singing lessons, piano lessons, and guitar lessons. Though it may seem like a handful of different things for a young girl to be doing, Olivia mentions that she is, in fact, grateful that her parents gave her those opportunities. According to an interview done by MTV UK, Rodrigo states, "In hindsight, I'm very glad I was forced to be in piano lessons because I use those skills that I was taught every day. Playing piano is one of my favorite things to do now, so [I'm] grateful that my parents forced me to do that…."
In just a short period, Olivia Rodrigo became a talented little girl who would write her songs and perform them in front of family and friends to become a musical finalist who would sing her heart out in Boys and Girls Competitions. Already having experience in performing, Olivia was then given a suggestion to pursue acting from her vocal coach. Stepping into a change in scenery, Olivia started small by appearing in small productions at her school and was later given a chance to appear in an Old Navy Commercial. She then made her acting debut in 2015 at 12 years old when she got the lead role in An American Girl: Grace Stirs Up Success. Given that this was the young actress's first lead role, it is encouraged in different articles that this was the role that began to bring a bit more attention to the name Olivia Rodrigo.
The following year of her debut, Olivia and her family moved to LA, where she earned a role in a Disney Channel series called Bizaardvark. She played the character of Paige Olvera for three seasons. As the show came to an end, Olivia was just getting started with Disney. The young actress then signed with Disney + to play Nini Salazar Roberts with the production's very own High School Musical: The Musical: The Series.
High School Musical: The Musical: The Series was a reboot following the original High School Musical movies. Given that it was a series that seemed like a continuation of the original series starring Zac Efron and Vanessa Hudgens, who were very loved, expectations were high. Throughout the series, viewers got to see both the acting and musical side of Olivia Rodrigo. She not only played one of the leading roles, but she was also a singer and songwriter in both her character and in reality. Olivia would thoroughly write original songs for the show, which led to an even bigger spotlight on her musical career shortly after the series debut. One of the songs she had written for the Disney series, "All I Want," accumulated almost millions of streams leading to entering the Hot 100 Singles Chart.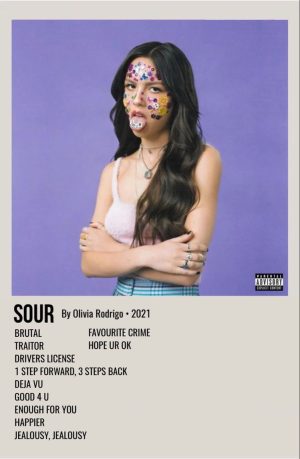 Throughout this point in the young girl's life, she began to gain more recognition, whether it be from her acting or her music that would be found on her social media, where she would post short clips of original unfinished songs she would create in her home for fun. In 2020, Olivia made the decision to sign her first record deal and release the song that would break streaming services all over the world in a matter of one week. "It's been the absolute craziest week of my life," "My entire life just, like, shifted in an instant." "Driver's License" was released on every streaming platform and was streamed more than 76.1 million times in under a week. Considering the time of the drop of the hit song, social media played a big part in bringing more attention to the new artist.
Fans loved and appreciated that there was a young artist who wasn't afraid of singing about relatable topics as a teenager and how it can affect one's life. Along with that, there was also appreciation given to the marketing, quality, and unknown gossip surrounding the meaning behind the song and beautifully written lyrics.
Olivia Rodrigo, now the youngest artist to debut at number one on streaming charts, was left with the question, what's next? The artist mentions in her Disney +  film, Olivia Rodrigo: driving home 2 u (a SOUR film), "The success of "Driver's License" changed everything… it was very intense". Despite all the pressure to put more music out, Olivia was "dead-set and determined" to create an album that included both specificity and authenticity within her songs. While developing her album, she mentions that the process of releasing other singles was "fairly scary" because although "Driver's License" was a well-received song, she thought people might not like it as much as her first release or that she was feeding into drama created by the media. 
With that said, the 18-year-old artist released her first album, SOUR, with her producer, Dan Nigro, almost four months after "Driver's License" on May 21, 2021. The album follows a sour trip down memory lane where you relive the grief and anger from a failed relationship. Listeners even described the album as "the five stages of grief," given the specificity and imagery within these songs. Within a matter of days of the album's release, many shared on social media how they admired the lyrics and the storyline within them. Specificity and authenticity aren't commonly used in songs nowadays, and people believe that those two things, as well as Olivia herself think, are what made the album come all together.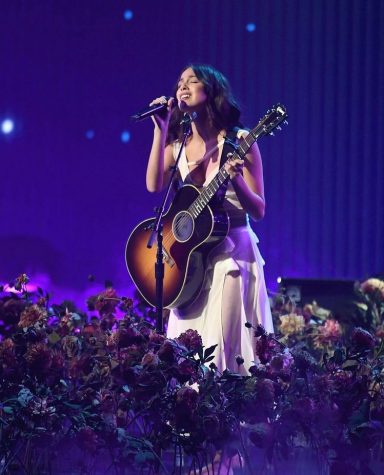 As time went on and the pandemic started to decrease slowly, Olivia Rodrigo started performing her hit songs live in high stakes environments such as The Tonight Show Starring Jimmy Fallon and Saturday Night Live. Throughout the continuation of the growth in her music, SOUR garnered 385 million streams and became the biggest opening week for an album by a female artist. 
"I first discovered Olivia on Disney Channel when she was on Bizaardvark but she wasn't someone I paid much attention to until I started watching the High School Musical: The Musical series. I think what drew me to her was her singing on the show; at that point, I felt as if she was going to get somewhere in the future if she wanted to become a singer and put out her own songs," said Ana Gonzalez.
"To be completely honest, I think the moment I started to bring my attention to Olivia Rodrigo would be when rumors started to go around about her and her co-star, Joshua Bassett. Here I thought it was another situation where lead co-stars got together after filming their show until "Driver's License" dropped, and it changed my whole view on what the media made their "supposed" relationship out to be. I think all the speculation brought more attention to her song, which isn't a bad thing because, in the end, more and more people are listening to her music." said Natalie Sandoval.
"After "Driver's License" dropped, I would consider myself as someone who was wondering when she would release more music, what it would be about, and how she would respond to all the negative and positive comments corresponding to her song. It was really important to see how Olivia would take the next step since she was coming out as a new artist who was also still a teenager, which I would say is definitely a lot going on at once." said Jenny Gutierrez.
"My overall opinion on Olivia Rodrigo would be that she is going to be someone extremely big in the music industry. I think it's really cool how her music is her and comes from her thoughts and feelings. I like how she knows how to tell a story when it comes to lyrics because I think it makes songs more interesting and enjoyable to listen to. Seeing her start off makes me excited to see where she'll end up in the future." said Bella Chavez.
This is only the beginning of the journey. Its too soon to answer the question, Who is Olivia Rodrigo? Time will tell who she grows to be as she continues to discover herself and different aspects of her life and career.
Sources:
Holtermann, Callie. "Why Do You Think "Drivers License" Became Such a Smash Hit?" The New York Times, 4 Feb. 2021, www.nytimes.com/2021/02/04/learning/why-do-you-think-drivers-license-became-such-a-smash-hit.html.
Bruner, Raisa. "How Olivia Rodrigo Become America's Biggest New Pop Star." Time, 24 May 2021, time.com/6050587/olivia-Rodrigo-sour/.
Editors, Biography com. "Olivia Rodrigo." Biography, 28 Oct. 2021, www.biography.com/musician/olivia-Rodrigo.
"Olivia Rodrigo: SOUR." Pitchfork, pitchfork.com/reviews/albums/olivia-rodrigo-sour/.