¿Cuál es su plan de voto?
Hang on for a minute...we're trying to find some more stories you might like.
Hoy, el 6 de noviembre es día de votación de las elecciones de término medio en California. Para los que están planeando votar, es importante que tengan un plan listo para poder votar y dar a conocer su voz en la política.
En primer lugar, la persona que planea votar tiene que saber donde le corresponde votar. Determinar el lugar de votación no es proceso dificultoso ni largo. Al simplemente buscar en Google "Where do I vote?" or "¿Dónde voto?" la persona tiene acceso al local. Para la gente que quiere votar pero tiene problemas con transportación, las compañías de Uber y Lyft están ofreciendo servicios gratuitos y tazas de precio más baratas para los van a votar.
Aun si usted no pueda votar, es importante que anime a otros a votar. Los menores de edad pueden animar a sus padres y ayudarlos al informarlos sobre las medidas y propuestas que están sujetas al voto de la población.
Estas elecciones de medio término son una parte crucial de la política del presente y cambiarán el curso del país enteramente. Es importante acordarse que uno no puede quejarse de la política ni de nuestros representantes si no ha intentado hacer los cambios e involucrarse en la política por medio del voto.
About the Writer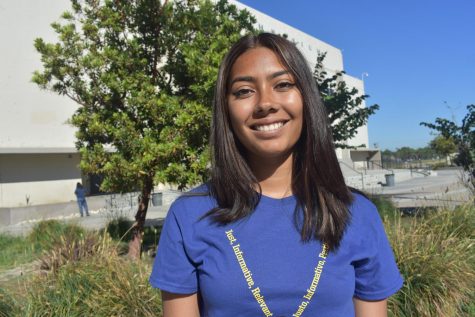 Vanessa Sanchez, Editor-in-Chief
Vanessa Sánchez es una estudiante del doceavo grado de Anaheim High School. Ha sido parte del Dual Language Academy desde el séptimo grado. Sánchez...