Who is Our Lead Counselor Mrs. Cuellar?
For Anaheim High School students, lead counselor Amie Cuellar is one of the most well-known staff members on campus.  She can be seen on school announcements, is the counselor for various school programs, and is the lead counselor for the entire school. How did she become a counselor? And why?
Mrs. Cuellar grew up in a loving home with her younger sister and parents in San Diego. Her father was the first person to go to college on his side of the family, receiving both a Bachelors's and Masters's degree, while her mother joined the workforce immediately after high school. "Throughout my childhood, it was like, 'you are going to college'…so it was like ingrained into our minds", said Cuellar. 
She was always a dedicated student, always ambitious, and had long-term educational goals during her childhood years. Her father was always insistent on her attending a UC school, so when applying to colleges, her choices were exclusively UCs; she decided to attend UC Irvine.
When she was 17, she went to study at UCI and received an undergraduate degree and a bachelor's degree. After that, she decided to continue living in Orange County. Her whole life was filled with the ambition to become a doctor or someone working in the medical field. However, this changed when she graduated from UCI and got a job at Chapman University's School of Education as an admissions coordinator. 
Cuellar grew the position into a more helpful job through financial and educational advice for students. Cuellar became a sort of mentor for these undergraduate and graduate students through this position." "I really found my calling through that position at the University," she said. 
Because Cuellar was already working at Chapman University, she decided to look into their programs. She originally had the goal of getting an M.B.A Business Degree, but after experiencing her position as admissions, coordinator she decided to get a master's for Counseling. She received her master's at Chapman University to pursue her goal as a middle school counselor.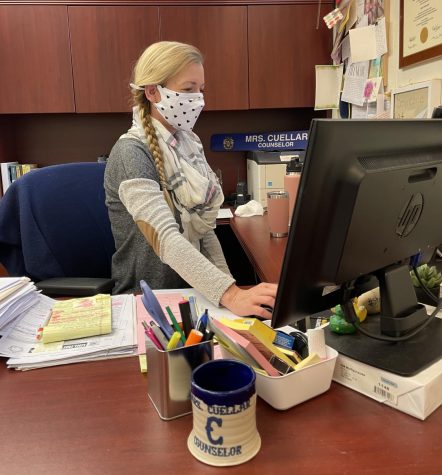 In 2010 she found her current job at Anaheim High School, which she considers her true calling, a place where she can fully use her talents to help students. Given her knowledge about college and adult life from being an admissions coordinator at Chapman, she can also help Anaheim students at a much greater level.