Mr. Tenorio's Journey To Where He Is Today
Mr. Tenorio is an English teacher at Anaheim High School and Cambridge Virtual Academy. In addition to that, he is the Puente program advisor and a proud father of a son and daughter. His main goal as an English teacher is to help students improve reading, writing, listening, and speaking skills that will help them become successful in life. 
Mr. Tenorio grew up in South El Monte in Los Angeles County, California. Growing up, his mother was his greatest inspiration and motivation. He states, "She was the one, you know, pushing me, pushing my siblings. Whether it was from doing well in school, playing well in sports, or just being kind to others, in terms of character, she was that person." 
Mr. Tenorio was an extroverted average student during his education journey. He liked what school had to offer and the different activities he could participate in. He was fond of the community at school and loved playing football. He states, "…I was a very likable kid by my peers and my teachers, but my experiences as a student were pretty average. I think what made me excited to go to school was not the learning but the social aspect of it: friends, playing sports, the people. I believe those are what helped me become engaged in school. As a young kid, I always dreamed of becoming a professional athlete when I grew up, but I knew that it wasn't going to work out. I spent a period of time in junior high and high school not knowing what career I wanted to pursue because I never had the opportunity to do any career exploration. It wasn't until college that I had the realization that I am capable academically and that I do have something to offer academically, which helped me excel."
One of the biggest obstacles in his journey was being an average student. He went to college with some gaps in his academic ability and had to overcome this challenge by putting more effort into his schoolwork. He received mentoring in college, which helped him grow his mindset and academic skills to help keep him on track. He was also more comfortable meeting people who wanted to see him succeed and with similar backgrounds.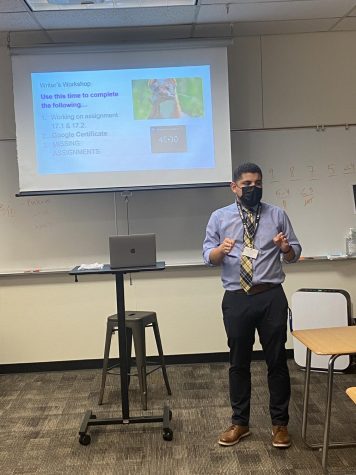 After graduating high school, he attended California State University, Fullerton, to receive his bachelor's degree in Business with an emphasis in finance. Even though he didn't know what to major in, he chose Business because he thought it could be something that he could do. However, he believed that his heart did not belong in the business industry. As an undergraduate, he was an English tutor in the Anaheim Union High School District. It was because of this opportunity; he found his true path in becoming an English teacher. He could see himself thriving as a teacher, which resulted in the direction he took. Four years after receiving his bachelor's degree, he attended the University of California, Riverside, and received his master's degree and teaching credentials. 
In his teaching career, he hopes to impact students positively. He wants to help support the youth who have a similar background to his, especially first-generation college students who come from low-income households. The mentoring and guidance he has gained were helpful in his education, and he wants to provide the same to students. Despite his mistakes in the past, he is also a person filled with wisdom. One of his favorite life lessons that he has learned is, "I think the more mistakes you make, the better you are at seeing what the learning opportunities are. With every failure, there is a lesson that you can learn from it. As you get older, you can reflect and you can see how those mistakes and trials led you to where you are now."