El Prom Expo empieza la cuenta regresiva para Prom
Hang on for a minute...we're trying to find some more stories you might like.
El 28 de febrero durante el almuerzo escolar, los estudiantes de la preparatoria Anaheim High School se preparon para el baile tradicional del fin del año, conocido como "Prom".  Prom es un baile formal que se organiza para los estudiantes de la preparatoria.
Se celebrará la graduación de los que van terminar su trayectoria en la escuela. Sin embargo, no es limitado para los estudiantes del doceavo grado, los estudiantes del onceavo grado tambien son invitados.
Típicamente las chicas de la escuela usan vestidos largos de gala y los chicos lucen trajes con corbata. En Anaheim High School, la vestimenta no es la excepción,  por lo tanto, los miembros de ASB del onceavo grado-  Emily Perez, Tanya Vega, Leslie Flores y José Aguirre organizaron un Prom Expo. En el Prom Expo, estudiantes desfilaron vestuario de Prom para que el cuerpo estudiantil tuviera una idea de la moda que se usará en el baile y para que fueran expuestos a algunas tiendas de moda que venden trajes de gala.
Ocho estudiantes fueron elegidos para modelar en el Prom Expo.  Los modelos del doceavo grado fueron Gabriel Camarillo, Adriana Cerda, Anthony Monroy y Karime Mendoza. Omar Barba, Wendy Gutierrez, Esteban Banda y Aileen Muriga fueron los estudiantes escogidos para modelar del onceavo grado. Las mujeres vistieron vestidos de "Moda 2000" y los hombres lucieron trajes de "Friar Tux".
Primero modelaron Esteban Banda y Aileen Muriga.  Ella vistió un vestido de lentejuelas dorado. El vestido caía hasta el suelo, y tenía una abertura en la pierna izquierda. Su compañero Esteban usó un traje azul de terciopelo combinado con unos pantalones de vestir negros. Juntos caminaron la alfombra roja de Anaheim High School.  Después de ellos, Omar Barba y Wendy Gutierrez desfilaron. Wendy usó un vestido largo de lentejuela en color borgoña  a su lado Omar Barba modelaba un traje gris. Los estudiantes del doceavo grado fueron los últimos en caminar la alfombra roja. Adriana Cerda y Gabriel Camarillo sonríeron mientras lucían la ropa de Moda 200 y Friar Tux. Ella usó un vestido dorado cual tenía swarovski en la parte superior y la falda era de tul. Gabriel usó un traje negro con detalles rosas y verdes en la corbata. Los últimos en modelar fueron Anthony Monroy con Karime Mendoza. Él usó el clasico traje negro y Karime modelo un vestido largo en color rosa lavanda, la cual también estaba bordada con pedrería en la parte superior del vestido.
Anaheim Exclusivo le pregunto a Karime y Anthony cual fue su parte favorita del Prom Expo y ella dijo, "Me gusto el hecho que me pude poner elegante, porque no es algo que hago todos los días." Anthony dijo, "A mi me encanto la experiencia, empezando de cuando fui a Friar Tux,  todo me gusto."
Esa misma tarde, los miembros de ASB revelaron el tema de Prom 2019 cual será centrado a la imagen de "La Gala De Met", un exposición de moda. Prom tomará lugar el 30 de Marzo en la Biblioteca y Museo de Nixon en  Yorba Linda , California.
About the Writer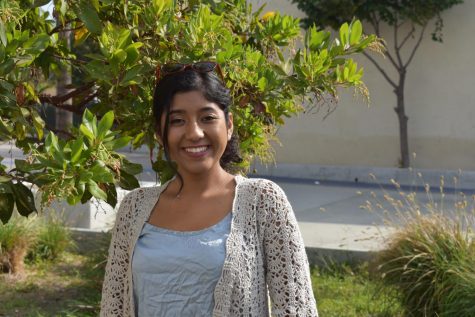 Melissa Herrera, Reporter
Melissa Herrera ha sido una estudiante dedicada en Anaheim High School. Ella ha sido parte de varios programas en la escuela como National Honor Society,...