Human Trafficking: Things you Should Know to Keep Yourself Safe and Informed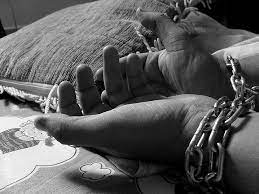 Explaining Human Trafficking 
Human trafficking is a common occurrence that continues to go unnoticed by many. It is portrayed in many action movies creating many myths and misconceptions. Many believe that it could never happen to them or that it doesn't happen because they have no personal connection to it; however, human trafficking is a reality, and it is a very prominent phenomenon worldwide.  
According to the United Nations, "Human Trafficking is the recruitment, transportation, transfer, harboring or receipt of people through force, fraud or deception, with the aim of exploiting them for profit." The most commonly known categories of human trafficking are labor and sex trafficking. However, there are many more than just these two. 
Contrary to common beliefs,  people are more likely to be trafficked by someone they already know. This can include romantic partners, family, friends, neighbors, etc. some common signs among human trafficking victims include: 
Appearing malnourished

Showing signs of physical injuries and abuse

Avoiding eye contact, social interaction, and authority figures/law enforcement

Seeming to adhere to scripted or rehearsed responses in social interaction

Lacking official identification documents

Appearing destitute/lacking personal possessions

Working excessively long hours

Living at the place of employment

Checking into hotels/motels with older males and referring to those males as a boyfriend or "daddy," which is often street slang for pimp

Poor physical or dental health 

Tattoos/ branding on the neck and/or lower back

Untreated sexually transmitted diseases

Small children serving in a family restaurant

Security measures that appear to keep people inside an establishment – barbed wire inside of a fence, bars covering the insides of windows

Not allowing people to go into public alone or speak for themselves
(Taken directly from https://ag.nv.gov/Human_Trafficking/HT_Signs/) 
According to the Polaris project, those most vulnerable to human trafficking include anyone who has faced "recent migration or relocation, substance use, mental health concerns, involvement with the child welfare system and being a runaway or homeless youth." This is because human traffickers search for individuals with vulnerabilities that they can use as leverage and create dependency on their victims. 
Safety Tips 
Zulette Orduna, a senior at Anaheim High School, shares her insecurity as a young woman walking home alone. "As a young woman, we are often taught that walking alone is extremely dangerous, and I believe that to be true. Sometimes I do become afraid of the possibility of being harmed in some way." 
Many students at Anaheim high school walk as their primary form of transportation when going from home to school. Although not customarily considered extremely dangerous, there are some precautions that one should take to keep themselves safe. 
According to Teen Vogue, some of the best strategies to keep yourself safe when walking alone is to be aware of your surroundings. Never look distracted because that makes you an easy target. Don't walk with your phone, don't play loud music in your earphones, etc. This could leave you in a vulnerable position and more prone to danger. 
When you feel threatened, a common choice to make is to call a friend. However, this may not always be the best choice. Police officers are a much safer choice because they can respond at a moment's notice if something happens. Whereas a friend may be limited on what they can do and how quickly they can respond. When calling the police, place the phone on speaker to deter the attacker. 
Downloading a safety app to use when walking alone can be a good choice. Many safety apps have systems in place where you can call the police with a press of a button or a release system where if you release your finger from the button, it will call the police if you do not enter the cancel code within a timeframe of a few seconds. 
Learning simple defense moves is also a great way to keep yourself safe in a situation where you are being attacked. It is essential to focus on defending yourself and getting away rather than fighting the attacker. In a panic, people often focus on freeing the part of their body that is restrained.  This is a mistake. Instead, use the parts of your body that are free to get away. For example, if an attacker has restrained the hands, instead of continuing to pull the arms out,  use the legs to escape by kicking or using any other strategy learned. 
Most importantly, if faced with an attacker, draw attention to yourself. Make noise! A safety whistle is an excellent tool to bring when you walk alone. It can draw attention to yourself and help you if you cannot scream loud enough. 
A few last safety precautions to keep in mind are to avoid walking alone if possible. Don't take poorly lit routes or walk through unpopulated areas. Try to walk near populated areas with restaurants and stores nearby. Finally, be aware of any car driving slowly or acting suspiciously.  
Resources available at Anaheim High School 
The district school social worker can be an excellent resource for students who are victims of Human Trafficking. According to the social worker, Mr.Najera, when a student reports that they have been a victim of human trafficking, the first step is to ensure the student's safety through a safety assessment. This assessment ensures that the student is no longer living in that home or that the perpetrator has access to that student. They will also report it to CPS (Child Protective Services), which will sometimes cross-reference with the police department. 
Mr.Najera states that as district social workers, they "Do a biopsychosocial assessment to make sure that the kiddo is not having any impediments because to be a victim of human trafficking, to say the least, is very traumatic. So we want to make sure that they have the support needed to continue dealing with that trauma and be a student that feels supported on campus. We also have programs that we have good relationships with where we can connect the students. We have additional resources such as Western Youth Services; we have Waymakers, Casa, we have Laura's House and some of these agencies provide one on one services to victims of domestic violence or human trafficking. Also, with something like human trafficking Anaheim PD has resources for victims of crime, so they link them up to services that are tailored to that specific need." 
After a student accesses the resources they need, the school may provide additional aid and accommodations for the student upon request. The student's counselor and social worker will work together with the student to arrange any needed accommodations. The social worker's primary focus is to help the student with the mental health component. Meanwhile, the student's counselor can make adjustments to classes or classroom modifications.
"We can do accommodations based on that, which is called a 504. We make adjustments where the student is allowed to go on breaks whenever they get triggered by something or someone. Or maybe they need additional support with assignments; whatever it is, we make adjustments to that."
Regarding the informational resources available at Anaheim Highschool, Mr. Najera states. "To be honest, we don't necessarily have a workshop or even information available (from my knowledge) where we are informing the kiddos, "Hey, this is a reality and a possibility; these are signs that we should watch out for.Which now brought to my awareness is maybe something we should be doing." 
Maryann Romo Morones, treasurer of NHS and student at Anaheim High School, comments on the lack of information offered to students, "There are certainly online resources such as videos and articles about how to protect yourself from being a victim of human trafficking, but that is if you are actively searching for it. Although there are resources, I don't believe the majority of students have searched for resources regarding this topic; therefore, they aren't fully knowledgeable on ways they could protect themselves from human trafficking. This could be a triggering topic to some students, but I believe inviting a guest speaker to the school would bring awareness to students about the topic of human trafficking and ways to protect yourself from it."
Fernanda Cisneros, a student at Anaheim High School and the president of Gold, shares a few ideas on how we can bring light to this topic at school. "I think that having more workshops available for students and pop-up stands during lunch … would be a great idea, and teachers distributing infographics during their homeroom." 
If you or someone you know is a victim of human trafficking, please seek help. Resources like Waymakers offer 24/7 assistance to victims. The number of the Human Trafficking hotline is 1(888) 373-7888. If you are a student, you can also reach out to the school social workers, who can help guide you through reaching out for help. The police department also offers specific resources to human trafficking with a task force dedicated to Human Trafficking. 
Citations: