Al Jabbar's Path to City Council
Al Jabbar, Anaheim Union High School District Trustee, has announced his run for City Council member for District 3 to bring more opportunities to students and families in the aftermath of Covid-19. 
The district trustee recognizes the scarce resources provided by the city and county for the students and families that continue to struggle from the effects of Covid-19. Over the pandemic, he has worked with stakeholders, the City of Anaheim, and the county to bring Chromebooks to students to continue their education online. 
Al Jabbar has served as a District Trustee since his election in 2014 when he became the first Sri Lankan-American to hold a public office in the United States. He attended Cypress College, where he began his political career after being chosen for Student Body President. He went on to earn his bachelor's degree at Cal State Fullerton and his master's degree at Cal State Long Beach for Public Administration. 
Al Jabbar looks to aim bigger as he has always known he would run for City Council. He tells us, "I've always said that after about two terms serving in the school board, I was going to give up my seat and not run for reelection for the school board." However, his retirement from the school board coincided with Dr. Moreno's term ending for District 3. It prompted Al Jabbar to ponder if he should run for Council Member, "I was making a decision talking to my family and saying what's best for our district in terms of somebody who could be as effective as Dr. Moreno?" 
He maintains the same goals for the city council as he had for the school district. He hopes to make the city council more transparent for its families and students. He mentioned his eagerness to attend council meetings to converse over issues that may harm Anaheim families. He says he was one of the few people who spoke out against the Anaheim Angels stadium deal, alongside Dr. Moreno, when the stadium and surrounding land were sold to the Angels for only $150 million. Rather than sitting on the sidelines, Al Jabbar is motivated to be part of the solution, "I want to be the solution to the problem before I run for office."  As an immigrant, Al Jabbar hopes to bring the American dream home and provide it to the families of Anaheim.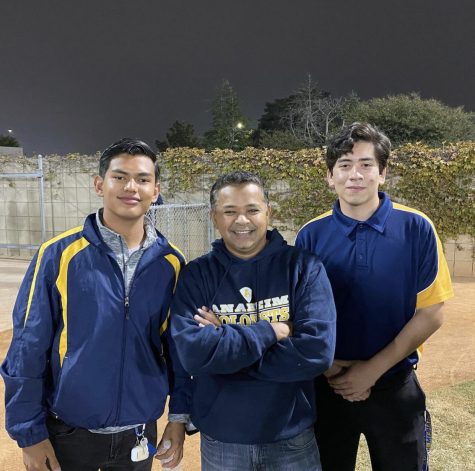 For the city council, Al Jabbar vows to make the city more transparent with its deals, moreover also hoping to bridge the gap between district, city, and county levels of management.  He believes his tenure as a trustee has given him enough experience to allocate city resources best to help families across District 3. He plans to look out for the needs of students and will be more active in making sure younger voices are heard throughout the city. 
Alongside his promises for transparency, Al Jabbar plans to allocate funds to create more college programs to help students enter college and earn degrees. His experience with such programs is seen with the Anaheim Pledge, which allows graduating high school students to attend local community colleges free of charge for the first two years. Alongside education, Al Jabbar hopes to create more recreational opportunities across Anaheim by renovating public parks and fields to make the city greener. 
Al Jabbar tells us his run for City Council will help him grow as a leader, whether he wins or loses. Al Jabbar has received direct support from Senator Josh Newman, Dr. Jose Moreno (Current Council Member Representing District  3), and support from families in Anaheim. The City Council election takes place on November 8, 2022. Al Jabbar encourages the young voters of Anaheim to go out and vote to create a city council that will be held accountable for their actions.