AESD schools reopening: Leading to voluntary Covid19 testing on students
With the return of Elementary Schools to in-person schooling, more benefits come for students and families. Anaheim Exclusive had the opportunity to talk with Vital Medical Services about the rapid Covid19 tests that will occur on April seventh, eighth, and ninth at Anaheim Elementary Schools. 
The Elementary Schools that will participate in this event are Thomas Edison, Ross, and Ponderosa Elementary School. Ms. Nichols, the Principal at Edison, indicated that the Covid tests are not mandatory for the students that they are only voluntary. To receive their COVID tests, they will have to call one of the schools and schedule an appointment with the school staff. She indicated that if the parents wanted their kids to be tested, the staff will find a location closest to the family and schedule their appointment at the family's convenience.
Tracey Golden is overseeing the testing done at AESD. She says that the Anaheim Elementary Schools District (AESD) is working closely with Vital Medical Services to administer the COVID19 tests for the students. She also emphasized that the COVID19 tests were not mandatory for the students in any way.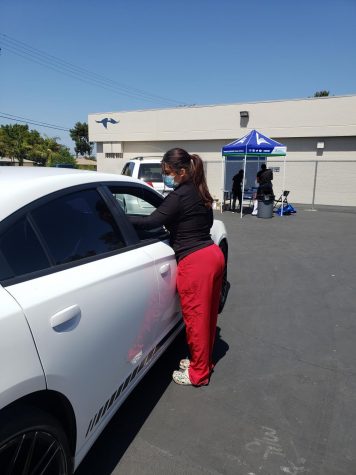 Vital Medical Services (www.vitalmedicalservices.com) is a 24-hour mobile health services organization that has served cities and first responders since 2012. Vital Medical provided COVID-19 testing services for countless schools in Southern California. Taguhi Sogmonyan, Vital Medical's Director of COVID Operations states, "We are proud to partner with the Anaheim Elementary School District to help ensure the safety of their students, staff, and the greater community during this pandemic." Under the leadership of the school district board, the district has elected to utilize Vital Medical's COVID-19 testing services as the schools open up and students return to classrooms. Vital Medical has conducted operations in countless communities and is the premier healthcare provider for public safety officials, supporting 40+ cities and entities across LA County with our healthcare operations and services for first responders. Vital Medical Services' clinical staff consists of medical professionals from emergency departments, who have undergone extensive licensing and accreditation and who are experienced, highly qualified, and risk management certified."
Dr. Angelique Campen, Vital Medical's Chief Medical Officer, said, "We utilize the best testing available, including Emergency Use Authorization (EUA) COVID-19 Rapid Antigen Nasopharyngeal swabs as well as PCR Antigen Nasopharyngeal swabs. Under CDC guidance and protocols, these tests have proven to be reliable, accurate, and fast." Ms. Sogomonyan adds "We are grateful for the opportunity to serve and do our part in caring for this community."
Anaheim Exclusivo spoke with staff at the Elementary schools, Vital Medical Service staff, and parents of students to receive their input on this event. 
Ms. Yeandry, a Medical Site Lead from Vital Medical Services, shared, "My job and my role here I think is very critical for our community at this point because getting our kids back safely to school is our number one priority." When she heard that Vital Medical Services was collaborating with AESD she said, "It actually put a huge smile on my face because it makes me feel like my job is not only rewarding but it puts the importance back into the community and it gives them the opportunity to be able to stand up to this virus." She continued, "We are fully prepared as medical personnel to undergo not only small children but adults that have phobias for testing or for nurses in uniforms. I would say that I am really fully prepared, I do have some times and moments where I am a little concerned that I may cause trauma to the child because they remember this forever. What we try to do to make it an easier process we offer them little gifts and little incentives for them to realize that we are not an enemy or we are not a negative impact on them but we are here to help them and to make sure they are healthy and safe." Most of the incentives and gifts were donations given to the schools and  Vital to give back to the students and put a smile on their faces. 
Mrs. Cedano works at Thomas Edison, and she said, "The Anaheim Elementary School District (AESD) has done amazing things to reopen the schools. They have put so much work, effort, and dedication into making sure that the return is safe for all students and staff. The district has contracted Vital to test the children whose parents would like for them to be tested as it is optional it is not mandatory so this gives parents that peace of mind to feel better about sending their children to school. " Mrs. Moraza is part of (F.A.C.E.S) at Roosevelt Elementary school, and she said, "I feel grateful that our district is providing this opportunity for the parents that would like to do it because it is optional so the parents could have this option." 
A parent of an Elementary student, Mrs. Shauna Burgara described the experience with Vital Medical, "…are very nice and pleasant, they did a really good job!" She said that she was also "excited about the new thing we are going through, trying to open back up." Another parent of another Elementary student, Mr. Vincent Le, indicated, "We have to do it for the school, it is easy, I am comfortable with it." He encourages parents to do the Covid19 tests on their children. "They should do it to keep their child safe to go back to school. It does take a little time but it will help out later being confident that your child doesn't have Covid."