Girls XC Team: Strong, Focused and Ready for their Season
Anaheim's Girls Cross Country team has been practicing from early in the morning during the summer to late after school since the beginning of the school year. Working hard, staying focused, and having the right mentality for this season has brought them to a good start. 
Starting off the season with an invitational at Laguna Hills High School, every runner who raced was able to obtain a PR (personal record or best time in that course). The following week in their first League Cluster, every level came in second place. Starting the season very well and giving their coaches an overall look on how the next races will go.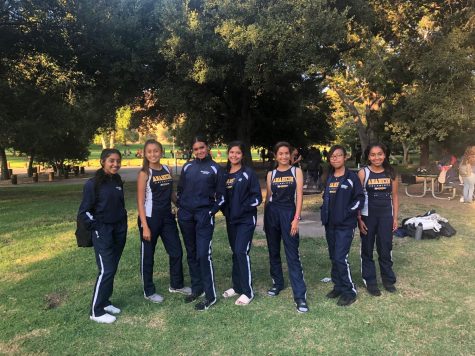 Girls' head coach Michael Storm and assistant Coach Casey Lang have worked hard to bring workouts, stretches, and runs that will help the girls improve their times in future races. In every race, the racers pushed hard and strived for better times. It's been four years since the team has gone to CIF all together. "Catching Katella, winning league along with making it to CIF as a team is this year's team's goals," said Coach Storm. 
Yozelyn Encines a current junior, and Lissete Lopez, a senior at AHS are this year's team captain. They have been working hard motivating, teaching, and helping the girls learn the importance of being a team and working hard together, along with staying focused during practice. In an interview with Encines, she told us, "While I'm still getting the hang of it, I feel honored to be captain because I get to see everyone's different sides since they come to me for any problems regarding practice or personal problems." Being a captain comes with significant responsibilities and the honor to lead a fantastic team getting close with everyone and building friendships throughout the highschool experience. 
With great coaches, motivating captains, and a strong team, this year, Anaheim girls are sure to make it to CIF and catch Katella during the league.