Nuevo anuncio de servivcio al publico muestra la terrible realidad de las balaceras escolares
El miércoles 17 de septiembre se difundió un video por la organización Sandy Hook Promise que nos muestra lo que viven los estudiantes durante un tiroteo.
Los padres de esta organización perdieron hijos en la escuela primaria Sandy Hook.  Sandy Hook es una escuela primaria ubicada Newtown, Connecticut, EE.UU. Una escuela primaria que en la mañana del 14 de diciembre del 2012 sucedió lo que nadie esperaba, una masacre llevándose la vida de 20 estudiantes y 6 adultos.
El video hecho por esta organización de padres muestra a estudiantes volviendo a la escuela con mochilas, zapatos y lápices nuevos. Se convierte más oscuro este video cuando los estudiantes utilizan sus propios útiles escolares para salvar sus vidas. Se ve a otros estudiantes quebrando vidrios para salir de la escuela. Una escena muestra a un estudiante sangrando mientras una niña lo ayuda dándole primeros auxilios con sus nuevos calcetines deportivos. Lo más impactante y triste es donde se muestra a una estudiante llorando mientras se esconde y le mensaje a su madre cuando es encontrada por el perpetrador de la masacre.
La reacción de las personas al  ver este video fue de tristeza y preocupación sobre lo que está pasando hoy en día con las armas y los tiroteos en las escuelas,"Me sentí dentro del video. Pude sentir un poco de ese sentimiento que proyectaban los alumnos. Esa impotencia y ese dolor pude sentirlos en ese momento"Así fue la reacción de Xander Tunchez, alumno de Anaheim High School, ¨Pienso que cada niño tiene algún problema en casa o en la escuela. Hay veces que los niños se desquitan con sus compañeros o hacen lo que ven en la casa¨ Es lo que piensa Leydi Flores estudiante de Odessa High School en Texas. "Al principio ´Oh que lindo, ellos hablan de sus cosas que al fin consiguieron´me sentía feliz por ello. Pero ya cuando empezó la masacre en la escuela me sentí algo molesta y triste. Molesta por las personas que comenzaron esa masacre contra niños que creo ni siquiera deben de estar involucrados y que esas personas solamente llegan y los matan, sabiendo que tienen una vida por delante. Y que deberían haber puesto más seguridad en la escuela y me siento triste por esos niños que murieron"Así fue la reacción y una profunda observación de Idaly rodriguez hacia el video de Sandy Hook. 
El propósito de esta organización es erradicar las armas en el mundo especialmente en Estados Unidos ya que este país tiene una tasa muy alta de tiroteos en las escuelas, ejemplo de esto fue Sandy Hook que sufrió la terrible realidad de tiroteos escolares.
About the Contributor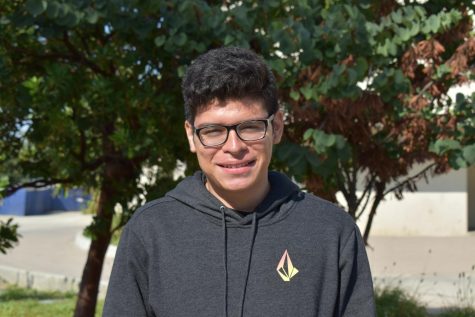 Fernando Romero, Reporter
Fernando Enrique Romero Lara was born in El Salvador and lived there until his 9th-grade year when he was presented with the opportunity to come to the...