Lo bueno de Tomar clases de AP
Hang on for a minute...we're trying to find some more stories you might like.
La escuela de Anaheim High School le da prioridades a sus estudiantes, tiene recursos para que los estudiantes sean exitosos. Anaheim High School tiene una variedad de clases de AP para que los estudiantes se puedan inscribir y prepararse para la intensidad del colegio, y cada una de esas clases le dan los beneficios que les ayudará en el futuro.
Le hemos preguntado al profesor de la clase de AP Literatura en Español, el Profesor Calderón, Maestro de Español/Bros Advisor, so es bueno tomar clases de AP y respondió "Definitivamente." Después le preguntamos a Rocio Reynoso,estudiante en Anaheim High School, y ella dijo "sí."
Les preguntamos,"Cuáles son los beneficios de tomar clases de AP?" y Rocío contesto "Los beneficios de tomar Clases de AP son que te dan una experiencia gratis de colegio." También respondió "Un estudiante se puede acostumbrarse al trabajo de un colegio con estas clases y puede prepararse para el colegio tomando clases de AP."
 Ahora en EE.UU, una clase de colegio cuesta miles de dólares para clases que no son necesarios para su carrera. Obteniendo una marca de 3 en todos los exámenes de AP ayuda en créditos universitarios, y eso te ahorra dinero para el futuro. Pasando el examen de AP con un marca de 3 o más cuenta como si hubieras tomado y pasado la clase en la universidad y habrá necesidad de tomar esa clase una vez matriculada en el colegio. Cuando entregas una sumisión para colegio, los colegios valoran las clases  AP en la transcripción. 
Cuando le preguntamos al Profesor Calderón sobre los beneficios, él contestó "Los prepara para la intensidad que van a enfrentar cuando lleguen a la universidad, y por el nivel de las escrituras, el nivel del material que está escrito en un nivel más difícil." También dijo "Simplemente estar a un nivel más avanzado y que se les pide más a los estudiantes dentro y fuera de la clase, por lo que ellos tienen que estudiar ellos mismos, trabajar con compañeros, trabajar en grupos y aprender esas nuevas técnicas que las van a ocupar en la universidad."
Esto nos enseña que las clases de AP benefician a los estudiantes de la forma en ayudarlos y prepararlos para el futuro y colegio, les ayudará con ayuda financial y les ahorraría dinero, y también ayuda para que se animen los estudiantes a tomar las clases de AP.
About the Writer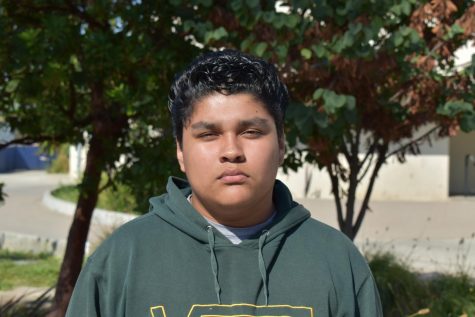 Jacob Quintero, Reporter
Jacob Quintero tiene 16 años y esta en el onceavo grado. Le gusta ver el fútbol, el fútbol Americano y de vez en cuando jugar los dos deportes. Disfruta...