Anaheim High School's Women March
Wednesday, March 8 is known worldwide as International Women's Day and is a crucial placement in history for celebrating women's achievements around the world. It is an opportunity to appreciate what women do and what they consider successful in their own lives. 
This year, Anaheim High School's ASB (Associated Student Body) also decided to create an event that would demonstrate the significance of this important day to the community of Anaheim. They celebrated on March 8 in the form of a march led by students. It started at 2 pm during their last period and all students met in front of the school.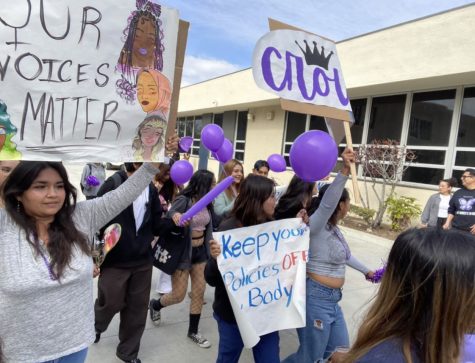 They marched around campus with large supportive posters for the occasion and were also encouraged to follow the theme of purple with items such as face paint, headbands, stickers, clothes, etc. The turnout was immense as students saw it as an opportunity to bring everyone together and turn the occasion into a huge collaborative effort and celebration. 
As a part of this grand event, ASB also created crewnecks to sell to not only students and faculty, but the community members as well. This merchandise was sold from February 6 – March 10 in room 58A and were only $25 each. 
Two strong and impactful students from Anaheim High School took the lead for this event and were the key components of organizing this event. These two young women were Meztly Carreola (ASB President) and Andrea Monroy (ASB Secretary) who are a part of ASB in Anaheim High School.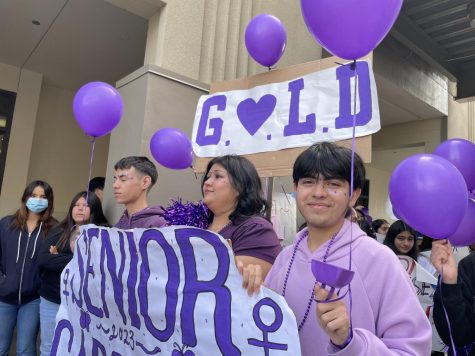 The theme for this year's event was described as "futuristic" so the organizer's intent was to connect the occasion with the theme of space. Meztly stated, "Especially the famous phrase by Neil Armstrong 'One small step for man, one giant leap for mankind.' Our goal is to create and have this better future for not only women, but everyone." When describing her inspiration for creating such an event, Meztly stated, "I've always wanted to make a positive change in my life and after going to Morelia, Mexico last year I was able to see and learn about a march… called '8 mil'." They used this inspiration from her experience in Mexico as an outline to create such an event, as Meztly also said, "When I got home, it was all I was thinking about. I was able to have an amazing partner who also had so much interest for this event, and we made it happen!" 
Many clubs collaborated with ASB for this event, as Andrea stated, "We had several clubs be included in our march. Gold and Crown did amazing with helping us make posters and spreading the word for our cause… it was also very nice to see our amazing female athletes and BROS as well as our ladies in NJROTC celebrate women with us." Andrea also described her inspiration for this event as, "What inspired me to come up with the idea for this march was that we needed something on campus to celebrate women and make us feel strong and empowered… I chose to be a part of this because I really wanted to see change and I hope that stays with Anaheim." 
These two influential young leaders created a grand event which they hope becomes an annual and ongoing event at Anaheim High School and in the community, as women's rights are a social movement that we will continuously be fighting for.