Welcome our New Assistant Principal, Mrs. Ruiz-Flores
Anaheim High School welcomes Mrs. Ruiz-Flores, the new assistant principal for our current 11th graders. She was born and raised in Nicaragua, in Central America. Before becoming an administrator, she was a high school counselor for over 20 years. She received her Bachelors and Master's degree in counseling, then she attended Cal State Fullerton to do her administrative credential.
Before Anaheim High School, Mrs. Ruiz worked at Orangeview Junior High as an administrator for the past 3 years, and before that she was at Savanna High School for 20 years as a high school counselor. Mrs. Ruiz mentions it's been an amazing couple of days for her because she loves the sense of community, and pride when she went to her first basketball game. She feels a sense of belonging because she sees her Latino community and feels that teachers are here because they love to be here. She adds on that she has felt welcomed by everyone.
Mrs. Ruiz looks forward to being connected with the students, staff and eventually with the community of Anaheim High School. She mentions she loves what she does every day and how she looks forward to learning from her students because they all bring their own stories, just like she has her own.
As a teen she never thought she was going to be an assistant principal because she was a non-English speaker, but she says "I knew I had dreams because my parents did a big sacrifice coming from our country running away from a war and I knew I had to find my purpose, so I knew education was absolutely the way to make it happen for me." She adds that her parents always supported her education and she always knew she wanted to do something to help others.
Mrs. Ruiz is a woman of faith, so she takes every day looking for signs to find her purpose. After being a counselor for over 20 years, she felt she needed to continue her work at a different level. She mentions that "Sí se puede" especially for girls, Latinos, and immigrants that, like her, came here with just a dream. But hard work, perseverance, and focus will make you reach that goal.
As an assistant principal, her goals are to give the students the best of her ability to connect with them and guide them to find their purpose in life. She mentions that as an English learner and immigrant, challenges are always there, but more than challenges they are opportunities to learn and to this date she doesn't think there's anything she felt she couldn't do.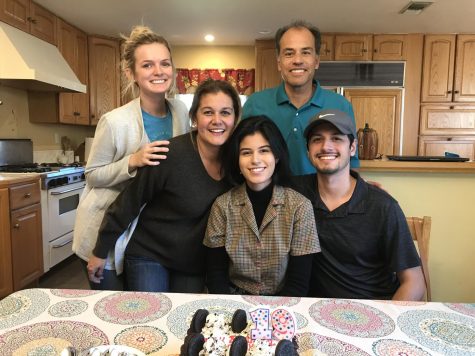 When asked who has impacted her life the most, she states" My parents, my daughter and my son have been my moving force to where I am today." Without them, she wouldn't be the person she is today. She mentions that she has always had her parent's support and unconditional love, and with her kids she has kept pushing through. A life lesson she has learned is to not procrastinate. Throughout her life, something that she has learned and has stood out to her the most is to be compassionate and to understand that we all see things from different towers.
Mrs. Ruiz finishes off by sharing a quote her dad used to say, "Todo con amor se puede." She is happy to be here at Anaheim High School and is here to help her students. Feel free to stop by and visit her whenever. Her office is located in the counseling center, or you can also email her at [email protected].