Biden Visits México
On Sunday, January 8th President Joe Biden went to the U.S. Mexican border at El Paso, Texas for the first time after taking office. Biden was criticized by the republicans, even members of his party, for not traveling to Mexico sooner.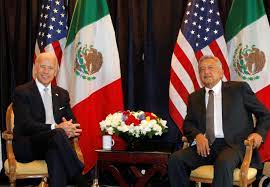 During his visit to El Paso, he did not meet or see any migrants, even though he visited a migrant center. According to the White House, "there were no migrants at the time" which is why Biden did not see any. But there was proof that there were migrant camps at El Paso, he was also criticized by the governor of Texas, "this is nothing but for show".
Biden left on the same day for Mexico City to take part in the "Three Amigos" summit of North American leaders. President Biden traveled to Mexico to meet with both Justin Trudeau, the prime minister of Canada, and Andrés Manuel López Obrador, the president of Mexico. They talked about how to make North America's future more prosperous and secure. Talking about the violence in other nations is also important, as is opening up legal routes for people to request asylum in the United States without having to travel elsewhere. A few days after going to Mexico, Biden announced that 30,000 migrants a month from Cuba, Haiti, Nicaragua, and Venezuela would be able to enter the country and work legally for up to two years.