Anaheim High School Market Day
Anaheim High School had its first Market Day for this school year on Wednesday, December 7th during both lunches. Mrs. Barba, the business teacher, stated that,"the process for Market Day is to have students participate in the Empowered Program. Empowered is a non-profit organization offering students hands-on activities embedded in the Business & Marketing and Business Entrepreneurship Honors courses." She adds that teachers within any subject area can choose to be an Empowered teacher and select from the different Empowered activities as it relates to their content area.
Market Day takes approximately two months to prepare. The students must complete a business plan, financials, and a sales pitch presentation to the class. Mrs. Barba mentions if their business plan is approved, Empowered gives them a loan to participate in Market Day. During their sales pitch presentation, the students receive feedback on how an item will be sold at a too low or too high a price, or if the item itself will sell.
Mrs. Barba states that, "the goal of the event is to give the Empowered students a chance to be an entrepreneur during a designated time period." She adds that in our school's case, it is during both lunches. This allows for the students to gain hands-on experience by testing their business plan ideas, knowledge, skills, and their passion for entrepreneurship. Mrs. Barba's expectations are to have students learn from their Market Day experience and grow as entrepreneurs.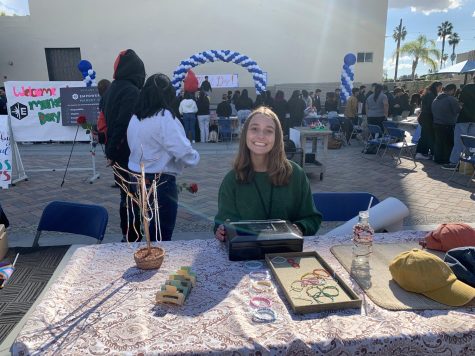 This school year, Market Day broke a record with twenty-three student businesses, including Mar Muñoz, a current junior at Anaheim High School. She was selling accessories such as caps, hair clips, and necklaces. "The caps were $8 and everything else was between 1 and $3." Mar mentions it took her about 1 week to decide on what to sell. Overall, Mar loved the experience and almost sold out. If given the opportunity, Mar would love to do it again.
Market Day was a success as there was a variety of products being sold such as stickers, jewelry, roses, hats, fuzzy socks, succulents, and more. Anaheim students always enjoy Market Day because it gives them the opportunity to buy and support our entrepreneurs. Mrs. Barba mentions that, "upon debriefing with the Market Day student businesses, all students said they learned from it."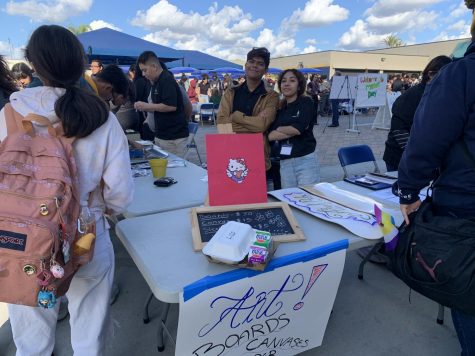 Daniel Fernandez is a senior who also had the opportunity to sell anime stickers alongside Adrian and Christian. Their prices were $0.50 a piece. They were selling 5 for $3 and 7 for $5 as well. Daniel mentions that, "This was my first time selling at Market Day. Overall, I believe that it was a fun and memorable experience." Although they did not sell out, they expected this since they're planning to sell at Steam-A-Palooza. He mentions it only took them a couple of days to receive the stickers since they purchased them online. Daniel concluded by saying he would consider doing it again.
Mrs. Barba mentions that the next Market Day will be next school year in December. The new goal is to keep growing in student businesses and perhaps expanding it by including other Empowered teachers in different subject areas.