Anaheim High Haunted Tour
On October 26, 2022, the night of the Halloween dance, the Anaheim Senior class held the annual Ghost Tour on campus. The event began at 7pm, right after the school's dance. Ms. Rodarte was the teacher present, selling tickets and telling students about the events that took place.
Snacks were given at the beginning of selling tickets. There was popcorn, bottled water, and Kool-Aid. After a few minutes, the tour began. At the start of the storytelling, Rodarte took the students towards the pool, where she told the story that Mr. Johnson had told his students about. The story goes that there's a girl who is inside the school vents, and whenever Johnson is alone in his classroom, he can hear someone knocking against the walls.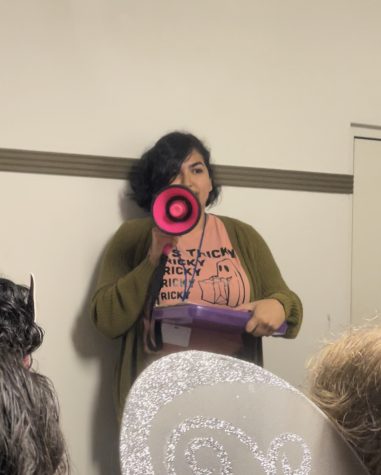 Many students went with groups of friends, maybe to not be scared when alone. Brenda Flores, a senior from Anaheim, is someone who went to the tours a few minutes after 7pm, and she went with friends as well as her younger brother.
"I knew some, but not most (stories). The part that scared me the most was the auditorium and library," Flores said. She also expected paranormal things to happen throughout the tour, but the only thing that spooked her was the Library.
A factor that added to the ambience was the students in Mrs. King's class. The students had costumes on and their acting was on point to scare the students. They opened and closed the doors, stood menacingly to stare at people, and screamed their lungs out. Overall, it was a fun, spooky experience for Anaheim students to learn about their history.