Death of Longest Reigning Monarch
Elizabeth Alexandra Mary Windsor (Queen Elizabeth II) was born on April 21, 1926, in Burton Street, London. Plans about her being the next queen of England have started since the day she was born. Her uncle, Prince Edward VIII was supposed to be king, but he gave up the throne and Queen Elizabeth's father, King George VI was king. After her father passed away, she became queen at the age of 25. 32.27 million people in the UK watched the queen's coronation. Her coronation was on June 2, 1953, and it was televised for the whole world. Queen Elizabeth got married to Prince Philip on November 20, 1947. The queen had 4 children, 8 grandchildren, and 12 great-grandchildren. Sadly, on September 8, 2022, the queen passed away in Balmoral Castle in Scotland. She died peacefully in her sleep. Queen Elizabeth II will be remembered as Britain's longest reigning monarch. She reigned for 70 years and 214 days. 
Now that the queen has sadly passed away, there will be changes in the monarchy. Her eldest son, Prince Charles III, became king and his wife, Camilla, became queen consort. Prince William and his wife Kate are now the Duke and Duchess of Cornwall and Cambridge. William is also next in line for the throne. Countries around the world paid respects to the queen by lowering their flags to half-staff.
On Saturday, September 10, the accession council met at St. James's palace to declare the death of the monarch and the accession of the successor to the throne. On September 11, at 7 p.m., the queen's body was transported to Buckingham Palace. A few top government ministers, including the prime minister, attended the reception.
The queen's body stayed in the palace until Tuesday, September 13. She was moved to the Palace of Westminster and another service was held for her there. On September 12, the queen's 8 grandchildren were standing near her coffin at her vigil. World leaders came to London to say a final goodbye to her. Her grandchildren were standing there for 10 minutes.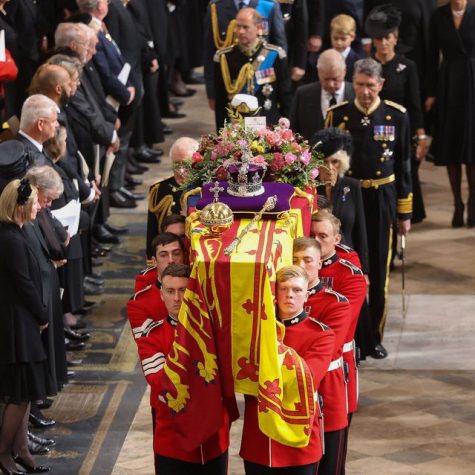 The queen's funeral was held on Sunday, September 18, at Westminster Abbey. Head of state and VIPs attended the funeral, including her family members. The queen was buried at St. George's Chapel in Windsor. She will be buried where her late husband, Prince Philip, was buried.