Sycamore's Community Schools Resource Center
Thursday, September 1 was the Ribbon-Cutting Ceremony for Sycamore Junior High's Community Schools Resource Center. The event began at approximately 4:30 pm. Special guests, Sycamore families, and community members gathered to celebrate this accomplishment. Sycamore Junior High counted with the support of Anaheim High School BROS, Link Crew, Culinary Arts, Anaheim JROTC and AHS Band.
The state awarded the Anaheim Union High School District (AUHSD) $24 million to transform 13 of its 20 campuses into "community schools," which the district described as "public schools that provide services and support that focus on what students in the community truly need to succeed." Sycamore Junior High is the first of these campuses. This is a huge accomplishment that involves partnerships with city, county, and private industries in order to accomplish their goal. Speakers took a moment to acknowledge this collaboration.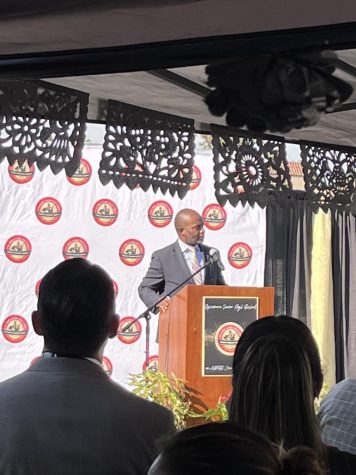 Special guest Tony Thurmond, State Superintendent of Public Instruction, shared his own story to emphasize the importance of community schools. His mother raised 4 kids on her own while battling cancer, until his mother died when he was six. He remembers his siblings and him getting split up, his family being recruited, while his cousin ensured they get a good education. He described using food stamps, and his family eating, "…government cheese". His Tia would say "God will provide and God did, Schools did, and college programs did." Throughout his speech, he states, "Those public programs helped my family overcome poverty, and the most important public program was getting a great education. Community schools help our kids get that great education."
Araceli Huerta, Sycamore's Community School Coordinator, states "this center will help her serve families more effectively". It will be another place for families to arrive, eliminate barriers and provide access to critical services. Sycamore already offers some services, but the future of their services will also be determined by the community. It's a community center forged by the community itself.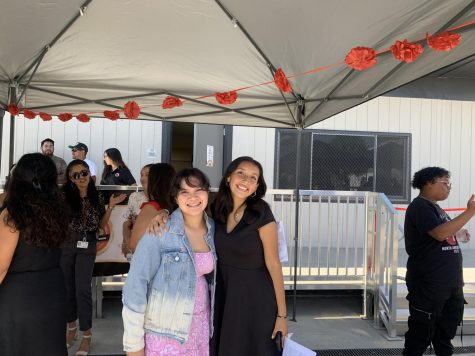 Emma Alvarez is currently Sycamore's Student Council (STUCO) President. For Emma, this community school resource center shows a positive effect on how fortunate they are by receiving more support than some schools. This makes her feel excited, knowing she and her community can now rely on this center for support. She can now go to someone and knows she will get the support she needs. 
For Nancy Cortez, principal of Sycamore Junior High, opening up a Community School for the Sycamore family, means "opening up our door to everyone in the inner community and providing services that are at no cost and being very strategic as to what the needs are within the community." Some of the needs within the community that have come to mind recently are that most of the parents are working parents, so the kids not being able to go home to a nice warm meal, so providing the mercadito for parents to come and stock up is huge. She states, "Being an alumnus myself from Sycamore and from Anaheim High School and seeing what our community is capable of doing by coming together with parent voice, student voice and community voice is important and is such a proud day for me." She tells us, "I would never in a million years think something like this would happen to a community like Sycamore."