Latinx's representation through Coachella
Coachella has become known as the most famous, profitable, and anticipated festival in the United States and, undeniably, the world. The three-day-long festival aims to create platforms for all performers and exposure to an eclectic crowd.
With the festival's long-awaited return after having canceled the festival for the year 2021 due to the ongoing Covid pandemic, Coachella planned to bring over 150 performers for its 2022 festival. Amongst headliners, Harry Styles, Billie Eilish, and The Weeknd, eighteen Latinx performers represented the community through their appearance at the festival.
Latinx performers who appeared at the 2022 Coachella festival include:
Grupo Firme
Karol G
The Marias
Banda MS
Omar Apollo
Anitta
Chicano Batman
Kessie Reyez
Ela Minus
Ed Maverick
Pabllo Vittar
Alaina Castillo
Cuco
Nicki Nicole
Nathy Peluso
Natanael Cano
Princess Nokia
The Martinez Brothers
While there was a quantitive representation of the Latinx community at the Coachella 2022 festival, this was not the case until 2019, when Los Tucanes de Tijuana made history as the first  Norteño ensemble to perform at Coachella. Starting their historical set, frontman Mario Quintero Lara asked, "How many Mexicans are here tonight?" to which a diverse crowd broke down in dance to the band's hit song, "La Chona." Being banned from performing in their state, Tijuana, the Norteño band brought a historical performance to the united states and the Latinx community. Quintero exclaimed to the Rolling Stones," I hope that we continue to have these kinds of opportunities and for [those] doors to open to everyone."
With the uprising of Latin music revenue in the United States, Coachella's promoter, Goldenvoice, has recruited Latin performers to captivate Latin audiences to Coachella's music festival. According to an RIAA report, Latin music revenue reached more than $886.1 million in 2021.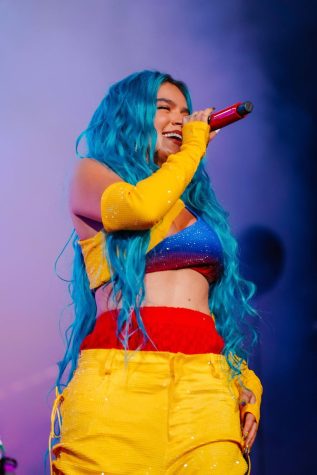 Becoming one of the first Latina performers to present on the Coachella main stage, Karol G said, "It was a moment for me to show who we Latinos are, to introduce a culture many people may still not know very well." Having one of the most important performances for the Latinx community, as her set came to an end, Karol left the stage only to reappear in a custom outfit featuring the colors of the Colombian flag. She stated, "Tonight, I feel so proud to represent my country and my Latina community around the world. I just want to have a moment in my show to honor the Latina songs that were number one in the world but were never played on this stage, but they have the opportunity here." Going down chronologically by year of release, she began with Selena Quintanilla's hit song, "Como La Flor," which was followed y Celia Cruz's "La Vida es un Carnaval," Shakira's "Hips Don't Lie," Ricky Martin's "Maria," Daddy Yankees "Gasolina," Luis Fonsi's "Despacito," J Balvins, "Mi Gente". She ended with her hit, "Tusa."
After tuning into Karol G's performance through Coachella's live stream on youtube, Litzy Cerezo explains, "Watching someone as influential as Karol G emphasize the exposure to previous Latin hits that did not have the chance to reach a stage like Coachellas is extremely powerful. Seeing her do this for the community made me connect with her more as a person from the community rather than just an artist I admire."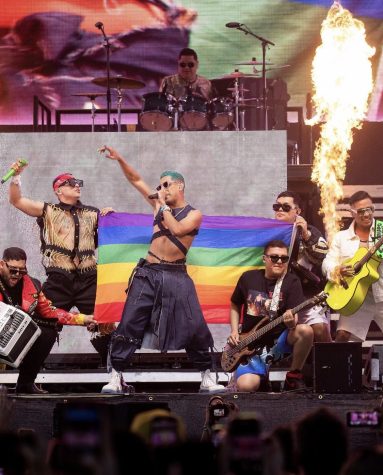 The electrifying Grupo Firme promised their audience to bring a Mexican party to the United States through their Coachella performance, to which many would agree that they did just that. Making sure not only Mexicans were being represented during their set, Grupo Firme brought out the Venezuelan, Argentinian, Columbian, and LGBTQIA flags to finalize their unforgettable performance. Flaunting Mexican culture through traditional outfits, instruments, and constant exposure to Mexico's alcohol culture by taking tequila shots through bottles and Norteño hats. Grupo Firme performed hit after hit. Eduin Caz, the lead singer, exclaimed, "Regional Mexican Music isn't original anymore. We are reaching a wider audience". Beginning their show with "El Amor No Fue Pa Mi," the band also played hits "Ya Supreme," "El Toxico," "Yo Ya No Vuelvo Contigo," "La Cajeta," "Cada Quien," and a cover of "Tusa," the hit song by artist Becky G who later performed that evening.
Kitzhia Muñoz, who has kept up with the band's discography throughout the year, comments on the surprising but appreciated representation of the LGBTQIA community, "Watching Johnny Caz(singer) sing while his brothers proudly held a pride flag behind him impacted me the most. Many may not understand, but LGBTQ representation within the Mexican community is something rarely if ever, seen."
Rodrigo Sauceda further exclaims, "Not being necessarily into "banda " doesn't mean that I won't be watching Latin performers live. Having this representation at an event the size of Coachella becomes important for the Latinx community, including myself."
Natanael Cano, a highly successful artist among Gen Z, has contributed to the rising popularity of corridos. Mixing trap beats with traditional Mexican guitar licks, Cano has influenced the interest of many in the genre. Before performing at the festival, Cano expressed,"…I am incredibly grateful and excited to bring my culture to Coachella. I want the world to enjoy and get a good clear view of where I come from and why I love it so much."
With much anticipation, Banda MS, and Banda Sinaloense MS de Sergio Lizarraga, expressed their excitement about their appearance at the festival.  They shared that they did not see themselves gaining a new audience as much as they saw an audience gaining a new experience.
From artists such as Pablo Vittar, the first drag queen to perform at Coachella,  to Karol G and Anitta, who have become the first Latinas to perform on Coachella's main stage, to the Marias, who represent Puerto Rico and Los Angeles; Coachella's future Latinx representation is highly anticipated for years to come.