APAC Musical Once On This Island
Once On This Island is a musical written by Lynn Ahrens, which was performed by Anaheim High Schools APAC program on the nights of March, 13st-April 1st. APAC, (Anaheim Performing Arts Conservatory) is composed of many talented AHS students from our dance, choir, and theater programs at Anaheim. 
Advisors, Ms. King, Mr. Gonzales, and Mr. Rodich worked tirelessly to put on the show Once On This Island. A musical  about a peasant girl, Ti Moune, who rescues a wealthy boy, Daniel, with whom she falls in love. Ti is shunned because of her status, but is willing to give it all to be with Daniel.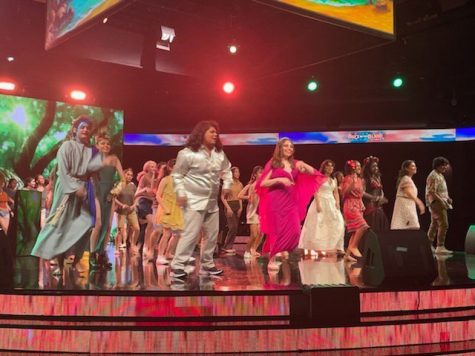 Vannessa Leal played Erzulie, who is described as the  "Goddess of Love", one of the four gods the peasants prayed to and looked to for hope and resilience. When asked about her learning experiences from musicals, she states 
"Even though this is what I love to do, it is a lot of work, but if you are willing to put in the work, it will show in the end. After all that work, you get to show off what you have done…all the stress and anxiety was worth it." 
Another member of APAC, Zulette Orduna, was an ensemble member. "The ensemble is responsible for setting the overall tone of the musical working together in order to highlight the lead storyline and influence the audience connection."
She says the following regarding the difficulties of putting on a show of this scale, "APAC was out of commission a year ago because of the pandemic, but that did not stop our students from giving it their all and becoming a part of such a heartwarming production! We overcame these challenges by supporting each other through it all, and that made us stronger than ever before!"
The APAC program at AHS put on a fantastic show leaving the audience in awe of the talent at Anaheim High School.