Los colonos y la moda
Hang on for a minute...we're trying to find some more stories you might like.
Con una nueva temporada que va a comenzar, nuestra fashionista de la escuela Chelsea González, nos explica sobre la moda durante el otoño y sobre su propio estilo.
Chelsea González un estudiante de Anaheim High School nos cuenta cómo es su propio estilo y como te deberias de sentir al escoger un atuendo. Chelsea nos dice que en el momento de decidir un atuendo lo más importante es asegurarse que se sientan agusto en la ropa que vayan a comprar. Es bueno tener diferentes tipos de estilo para verse que está al día con las nuevas tendencias. Eso es lo que Chelsea intenta hacer, ella nos dice, "Mi estilo es muy raro y siempre está cambiando. Un día me pongo un vestido y para el día siguiente me pongo un pantalón con una blusa simple."
Un buen atuendo para el otoño sería vestirse con un pantalón y una camisa de manga larga con unos pantalones que estén rotos de las rodillas con unas botas de tacón. Esta es la combinación de ropa que se está usando y lo demuestra Chelsea en la foto. Aunque este atuendo es simple y común, es la moda que está in.
About the Writer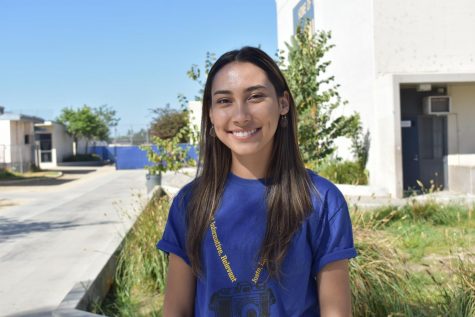 Lilibeth Moreno, Reportera
Lilibeth Moreno es estudiante de Anaheim High School está cursando el doceavo año. Ha sido parte del Dual Language Academy desde su séptimo año escolar...