Law and Teaching
Mr. Xavier Aguilar began his teaching career at Anaheim High School this 2021 school year. He is part of the ROP program, a career and workforce preparation for high school students and adults. He uses his past career skills from being a cop for 33 years working at the Los Angeles County Sheriff's Department to help him teach his students about Criminal Justice. 
Mr. Aguilar was born on May 3rd, 1967, in Torrance, California. Growing up, he attended four different schools due to his parents' divorce. He attended Jane Addams Elementary School in Long Beach, Palms Elementary in Lakewood, Killingsworth Junior High School in Hawaiian Gardens, and Artesia High School in Lakewood.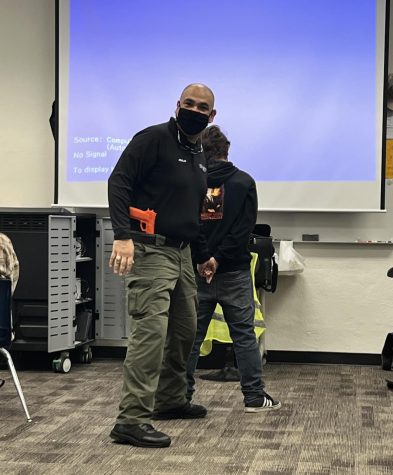 He never had the childhood of his dreams. He stated, "My childhood was pretty bad. I had an alcoholic father. He was abusive towards my mom. He broke her arms and all her fingers and also her jaw. He caved in her eye sockets. But my mom was also very violent. She stabbed my dad in the head. So we had the cops at our houses almost all the time." It was hard for him to look up to his parents. So when he was in elementary school, he looked up to his younger neighbor Jaime. He always thought he had a pretty cool life since his parents got along. He liked talking to him to see what life was truly like. In middle school, he looked up to a police officer. He was a deputy at the LA County Sheriff's Department. He said," I've never gotten to know his name, but he had a very big mustache. He was always arresting the gang members that would scare and rob us. Everybody would know who he was because you would see this giant mustache go out, and because of him, I was able to go out and play basketball."
Although he became a teacher growing up, he didn't like his teachers, but he saw himself becoming one because he liked teaching others. It wasn't until certain teachers wouldn't give up on him. If they didn't give up on him, he would show more respect towards them. "Mr. Robertson, Mr. Grey, Mrs. Husbands were some of my teachers from middle school and High School that I still remember. They never gave up on me." Those teachers also contributed to him wanting to become a teacher.
Mr. Aguilar has lived a long successful life. He accomplished what he put his mind towards doing. He wanted to become a manager at a Burger King right after high school, so he did. He joined the Air Force, and when he came back, he joined the Air Force Reserves and the National Guard. Then he decided he wanted to be in the police force, so he went after that, and he got it. Mr. Aguilar served as a police officer for 33 years. Right before he retired, he found a job in ROP, and he applied for it, and he got it.
While on the job at the Los Angeles County Sheriff's Department, he witnessed things that still traumatize him to this day, but that didn't stop him from getting his job done.  One of those is the story of a father who murdered his six-month-old baby, "I couldn't believe that this person, this dad just murdered his kid. That was one of many I've just never forgot. I have a lot."  
Thank you, Mr. Aguilar, for serving in the Air Force, patrolling the streets, and keeping everyone safe. Also, for teaching me everything that I need to know to so that one day I can pursue a career in Criminal Justice.