NJROTC Defining Leadership, Discipline, and Teamwork
Navy Junior Reserve Officers Training Corps is a military based program offered at Anaheim High School. The program can often be seen performing drills during important events on campus and at assemblies. On August 30th, Anaheim Exclusivo interviewed Commander Knight and his students.
Two students had only been in the program for a  year, however, they had a lot to say about NJROTC. Heidi Muñoz and Chris Diaz are ranked as Seaman, and both believed that this program had helped them academically by building their discipline. One way the students learn discipline is through wearing uniforms. "We learn to wear a uniform which takes discipline and pride to wear it correctly," explained Commander Knight. Joseph Rocha, who is ranked a Petty Officer 2nd Class said about the program, "It has helped me become a better leader. I used to be very shy and I wouldn't talk to anybody. It has helped me become someone." The program has helped build his confidence and has given him a sense of responsibility.  
Commander Knight gave his insight on what goes on during NJROTC. The Commander explained the importance of the bonds that are built throughout the year. Those bonds are built through marching drills, which are led by students and require students to take responsibility and leadership. Students are currently preparing for a drill competition in October and an athletic meet at Troy High School. In order to compete, the cadets are expected to work together and conduct drills to the best of their abilities. " We do have basic marching drills, which show them how to work as a team. The idea is to build teamwork and cohesion," said Commander Knight when asked about the drills students perform.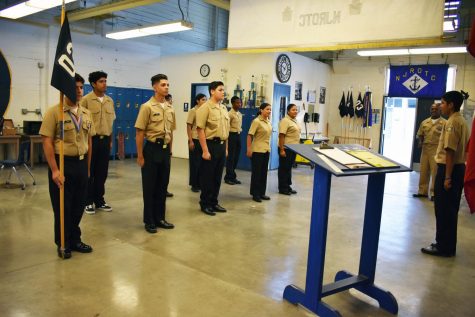 NJROTC is also involved with campus events and they contribute to the community. One major event is the Red Cross Blood Drive.  During their last drive, they were able to donate 100 units of blood thanks to the contributions of the students of Anaheim High School. The NJROTC program continues working to help students to gain skills such as dedication, integrity, honesty, and discipline.