Ms. Majewski Shares Lessons Learned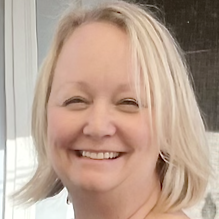 We all know Ms.Majewski, the Government teacher at Anaheim High School. We all know her as a teacher, but we don't know her as a person. During my interview with her, I asked her questions for everyone to know her as a person.
Ms.Majewski was born in Nashua, New Hampshire, and moved to Chicago at three. In a suburban area where both her parents were born. When she was 16, they moved to a small town in California, Tehachapi. Some of her memories as a child were spending time with her family. She also shares losing her dad when she was just 20. She cherishes most the memories of her family being happy and her dad's memory.
With a happy childhood, she was also an excellent student. Ms.Majewski has loved school since the moment she started school. Always being a top student, her parents had high academic expectations. Talks at the dinner table about their studies were standard. It was expected that she receive nothing less than an A. Coming from a working-class family, they valued education for success; her parents did everything they could to make sure they succeeded. Her parents didn't consider that the Cal States were worthy schools, so a UC was the only option. Today she recognizes that the Cal States are excellent schools for anyone considering attending.
Applying to UCI, she wanted to be far from home but close enough to return home. Having a sheltered childhood, she was hesitant to go to a big campus in a big city. Choosing UCI in 1990 was a good option because she felt comfortable that it was a safe environment. USC was another choice she had. She realized she couldn't afford it, and she didn't feel comfortable in the city where it was located—leading to her decision to go to UCI.
Her motive for being a teacher was that she wanted to do something that would use her degree. She has loved history from a young age. Her parents had history books in the house. She recounts that she would look at them since she couldn't read them yet due to her young age. After the university, she was recruited into a company to do financial analysis. She realized that she didn't like it. It was soul-crushing for her. She then realized her enjoyment was in history and government, and she enjoyed school. It made sense to her to pursue teaching. "As a teacher, your constantly looking for feedback on how the subject is being taught, from the body language, eye contact, the work being done," She explains that sometimes she changes up the work in between periods so she can reach the students.
As a woman, she believes that our country is filled with misogyny and sexism. At a young age, she experienced sexual harassment at school and work. She doesn't want to be reduced to just a female body. "Wanting to be known for your brain and your good works and then you're reduced to just your body it's soul-crushing, it makes you feel diminished as a human being. Me being a woman is just a part of who I am, but I am much more. s well as society pushing women to be more like men, saying your too emotional and wanting women to be like men."
Her view on challenges is, she is challenged every day with many things. Life is a challenge, but the biggest challenge was paying for the university. She looks back at her past and shares she worked two jobs while going to school full time. She struggles she had through her time at the university. She believes no person should go to school worrying if they have enough money. Ms. Majewski struggles with having enough to eat, washing clothes, having only 11 dollars for food for the week. s.Majewski says she was trying to better herself by going to the university, but she struggled a lot. She was limited to how much she could better herself due to her financial situation. Her advice to students is to get the help they need. She struggled a lot because she didn't ask for help, "No person can do it alone. People will help if you ask for help. If I can do it, any student can do it."