Mr. Rivas Biography
Mr. Ricky Rivas, a descendant of a Japanese-American mother and Mexican-American father, is a photography teacher at Anaheim High School. He has always had a vital appreciation for the artistic field, mentoring the youth and discovering their potential or future opportunities that the art of photography offers them past their educational careers.
Although Mr. Rivas enjoys teaching the art of photography to students, he never really saw teaching it as his initial or pursuing career. Back when he was a kid, his mom was a Spanish and English learners teacher, while his dad was a truck driver with a side business of photography. Thus unknowingly at the time, he would eventually combine his parents' careers and make them his own.
Before he began his teaching career, Mr. Rivas attended San Francisco Art Institute studying media/video production and photography. After receiving his undergraduate degree at San Francisco Art Institute, he began taking advantage of his talents. He sold his artwork for two to three years in San Francisco, Los Angeles, and New york. This marked up as one of the highest moments in his career and motivated him to pursue a career in the photography field. 
Following his educational career in the bay area, Mr. Rivas decided to reside back in Southern California in his attempt to find his long-term career in photography. It started relatively difficult, as he became a teacher at a community day school for the first ten years of his career (This consisted of teenagers who were expelled from their high schools, dealing with drug addiction, gang involvement, or family struggles, and are considered high-risk). He had to mentor and give them a sense of direction in life. Despite the fact that this wasn't his ideal starting job, it helped him become mentally prepared for the next chapter in his life, becoming a full-time photography teacher at Anaheim High School.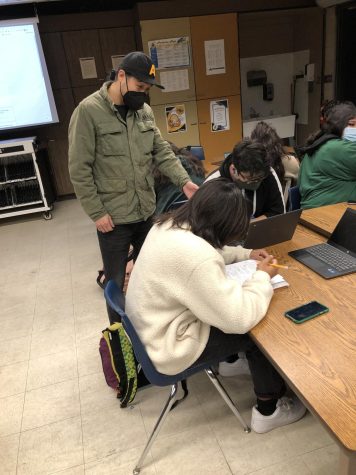 With this job, he soon saw a quick turn around in the teaching aspect of his career. He was now able to teach his lifelong passion of photography and educate them on all the industry's opportunities. One of his former students, Alan Salgado(2018 graduate), bought into the idea of having a future in photography. He was first recognized by the OC Register in the artist of the year program. He specialized in black and white photography, received a scholarship for a summer program to the Institute of Fine Arts in New York, and has continued his career by selling his photography in San Francisco. 
Mr. Rivas has always taken pleasure in photography and has the chance to educate young adults in this artistic field. His kindhearted self has forever dedicated his teaching methods to having his students see the potential within themselves and having the ability to express their emotions with the type of photos they choose to take along their journey.