Mr. Erik Zambrano: Do What You Have to Do to Survive
In October of 2006, Mr. Erick Zambrano started his passion for teaching, yet growing up to become that teacher was not always easy. All the battles he faced have made him realize, "To remain positive, and understand that there are certain things out of your control."
He was raised by both his parents, but his father wasn't around as much as his mother. He describes his father as, "hardheaded, stubborn, Mexican dude." He chuckles lightly while stating, "My dad was a construction worker. Well, I guess he was an alcoholic because he would come home drunk." Although he had a good relationship with his father, most support came from his mother. She was a stay-at-home mother, supporting him and his four sisters and two brothers. "I think I was a happy kid; I think it had to do with the fact that my mom was always there." His relationship with his siblings was always supportive, and it is still the same to this day. He remembers especially playing outside with his brothers or going to the park to play different sports. 
There were many challenges in his early childhood life. One of his challenges in life was his parent's economic status, mainly because of his dad's alcoholism. Although he grew up in Orange County, in Santa Ana, he remembers moving around frequently and living predominantly in apartments. He says, "Some of the time, we didn't have money to pay the rent, so we got evicted from our apartments. We went without electricity for some time." Growing up around these circumstances and experiences made him realize that, "Do what you have to do to survive." 
His elementary years were so enjoyable, and it had to do with the fact that he appreciated all of his teachers. "I remember crying when I was sick when I could not go to school," he laughs. In junior high, he fell off track for a while and considered himself a troublemaker, but moving to Anaheim and not knowing anybody at Sycamore junior high allowed him to refocus on schooling again. He believes he could have done better as a student in high school. He states, "I think I did enough just to get by." Not only was he involved in some clubs, but he also participated in sports such as football and basketball.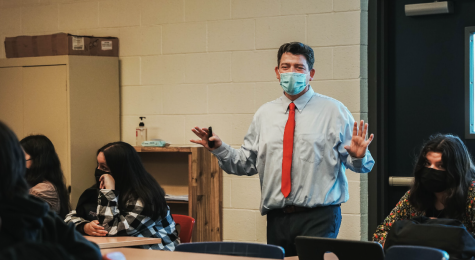 Before starting his profession, he never knew what he wanted to do. All he knew was that he had to get a decent job to provide a better future for his family than what his parents gave him. This encouraged him to apply to Cal State Fullerton and choose history as his major. When he chose his major, he didn't even know if history was his strength, but he did know that it was the only subject that sparked interest in him. Before becoming a teacher, he was an instructional assistant and a substitute. He realized his love for students, and this has kept him at AHS, where he has taught U.S and World History for 16 years. "Seeing growth in a student, when a student is struggling and turns it around when a student does a nice gesture for you," he tells us are all aspects of why Mr. Erick Zambrano finds teaching rewarding not only for himself but also for his students.
His message to younger people in life is kindness. ¨Going forward with my life, I just want to continue to try to be a good person and be a good role model for my students, for my children at home, and for my family. I want to see them grow. Be good people. Be successful. Be involved in their community. Be kind to people. Be kind to each other."