Anaheim Highschool's 2021 Winter Wonderland Concert
Scheduled for Friday, December 10 of 2021, Anaheim Highschool's band and choir celebrated the upcoming winter holidays to perform festive pieces for one night in the 2021 Winter Wonderland Concert. 
Organized by Anaheim Highschool's Band director, Mr.Garcia, and choir director, Mr.Rodich, both have been rehearsing extensive hours with their students to bring together a successful event.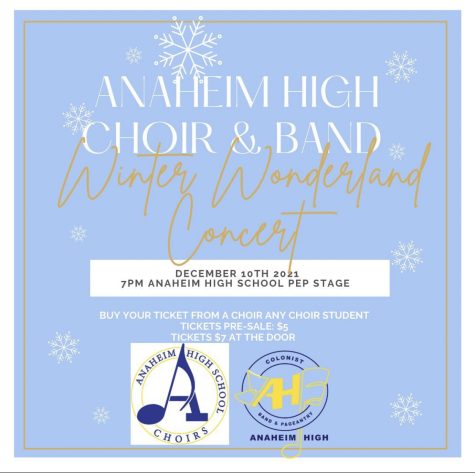 Scheduled for 7 pm, the concert began with the symphonic and concert band as a singular ensemble performing "Oh What Fun!" And "The Joy of Christmas" followed by a solo from choir student Amy Cervantes, who performed "Once Upon A December" (from Anatasia).
The choir group Aria was next to perform"My Favorite Things" (from "The Sound of Music," "Al Shlosha D'Varim" (Pirkei Avot), and "Mele Kalikimaka" with the following duet of "Baby it's Cold Outside" by students Khris Aguilar and Benjamin Orbe.
After, the Colony Blues choir groups brought together the pieces "Noel" (from Animaniacs), "Nanita Lullaby," and "Jingle Bells Rock," which was followed by Brittany Roldan's performance of "Siempre Hace Frio." 
Chamber singers, Anaheim High Schools, advanced choir students were next to perform "Let it, Snow!", "Glow!" and "A Festive Patpan," which was also followed by a solo performance of "Rockin' Around The Christmas Tree" by Eunbyul Cho, which helped set the mood for the upcoming Wind Ensemble group. 
Performing "The Nightmare Before Christmas" and "Sleigh Ride," Anaheim Highschools Wind Ensemble, the most experienced group of band students, were able to receive cheers and applause among the crowd. 
The night's most anticipated performance was set to be last in the concerts program. The Wind Ensemble and the Chamber Singers performed "A Silent Night" to mark the end of the 2021 Winter Wonderland concert.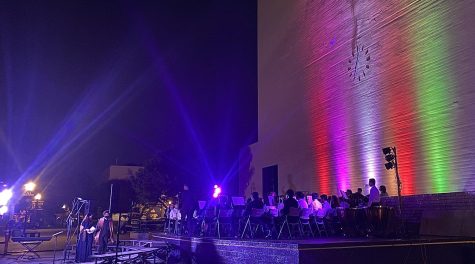 Though this concert has become an anticipated annual school event, after COVID hit, many difficulties have come to light. One of the main difficulties is the unavailability of the Cook Auditorium. Planned to be shut down for years to come, Cook Auditorium was no longer an option for Anaheim Highschool's VAPA groups. In organizing the concert, both musical directors contacted various venue managers before deciding that the performance would continue on the Anaheim High School campus, on the pep stage. 
Band director Mr.Garcia explains, "My initial thought was that it was going to require a lot of new things we hadn't done before including lighting and sound and I was really nervous about it because it was a winter concert and with the winter comes cold and rain."
Making the winter concert an outdoor event for the first time has brought concerns about the performers' sound quality. In addition to this, taking into consideration the anticipated audience, the weather was another issue to consider. 
Anaheim Highschool band Alumni Kitzhia Munoz exclaims," It is definitely a different atmosphere and experience to have the winter concert outside, but all groups showed their talent's on this night."
Regardless of these additional concerns, both programs successfully brought the 2021 Winter Wonderland Concert to life. After every performance, they received a roar of applause; all groups are now preparing for upcoming performances.