Recap of Anaheim's Annual Tree Lighting Event
On Saturday, December 4th, the city of Anaheim held the annual tree lighting ceremony.  COVID-restrictions canceled the event in 2020. This year the main attraction was the tree lighting at 6:00 pm. There was plenty of other activities, entertainment, and contests for the public to enjoy for free. 
Like the usual Farmer's Markets held at the exact location, shops and small businesses were set up for a unique holiday shopping experience. From 10 am to 7 pm, these shops and international food stands were set up.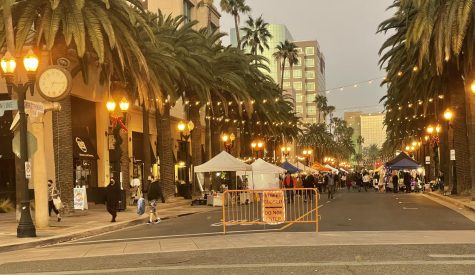 Before the lighting ceremony itself, there was also a dog costume contest, holiday crafts, and pictures with Santa. Aria choir, composed of students from various AUHSD schools, sang joyous Christmas songs for the audience before the ceremony. 
Attending the tree lighting event is "A choir tradition and a fun way to show Christmas Spirit in Anaheim!" shared Anaheim student Simeranjoyt Dhiman. She has attended the event annually since 7th grade and enjoys meeting new people and connecting with students in the same program from other schools. 
Once the choir finished singing, Santa Claus himself came with Mrs. Claus to commence the tree lighting ceremony. Disneyland donated the tree; it blew the audience away with its brilliant lights once it was finally lit. 
After the tree was lit, Anaheim Ballet performed The Nutcracker. The talented dancers performed brilliantly with shining costumes. When the music finished, Santa Claus and Mrs. Claus read the classic book, The night before Christmas, to the audience.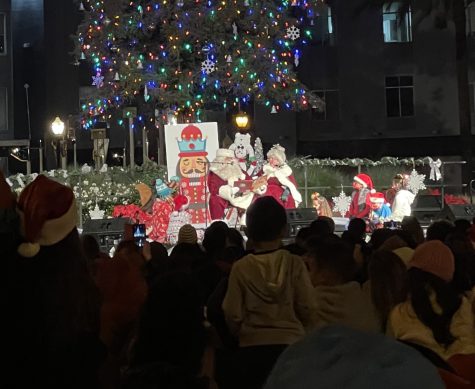 Sean Oliu and his band made the last big performance. Once they finished three Christmas songs, the ceremony concluded. The entire day could be summarized by choir student Jazmin de la Cruz when she said, "…everyone felt so happy and joyful, it felt great after not being able to really celebrate Christmas the past year due to the pandemic."