NJROTC Welcomes Chief Petty Officer Chief Marullo
NJROTC is a program to help students become better citizens. It helps students become more active with the community. According to NJROTC cadet, Daniel Castro the students are taught leadership and responsibility. 
John Joseph Marullo Jr, also known as Chief Marullo, was born in Newburgh, New York. Chief Marullo was an instructor in the Navy, and he has had sailors as students before. He has worked avionics in the Navy as his first job. "I used to work for fighter aircraft," he states. Chief Marullo also shared, "My second job was Information Systems Technicians, and my last job was career recruiter."
In general, Chief Marullo served 36 years in the Navy. When asked about his experience in the Navy, he stated, "I had a lot of fun; being in the Navy was like being Peter Pan, I got to travel around the world and see different stuff, meet a bunch of cool people." The best part about his job was that he enjoyed seeing other cultures and learning about their business. He also states, "Throughout my 36 years serving, I could tell you that everybody has one common goal in life; no matter what country you're from or where you're from, everybody just wants to raise their family, and just have a good life. That is pretty much my takeaway after 36 years."   
Chief Marullo's goal with his students is to help them reach their goals, "My goal here is to help students here get to wherever their goals are." He states, "We start off here, and tell students every year and let them know that everybody starts off with an A, here, and the grade is depended on whether they maintain it or not, and throughout the course of the year I'm sure there will be some trials or tribulations with some of the students." He mentions his Navy service, "I've always enjoyed the part of the Navy where I was actually able to help sailors, and this is just an extension of that. I am looking forward to help cadets as much as I can".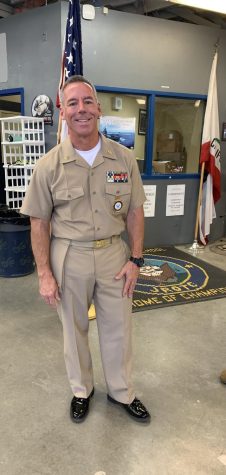 Some activities that NJROTC students include are drill events. They do different events with different units around the state of California. Their area is called area 11, so they go against units from around that area. They do both drill and physical competitions to build a sense of teamwork between the cadets.