New changes coming to DLA Program
The Dual Language Academy program has been at Anaheim High School for a decade; throughout the years, it has offered selected students the opportunity to study in both English and Spanish. It allows students to grow their bilingual and bicultural skills. AHS is one of the few high schools to provide this program. This year, the DLA staff at AHS is working hard to bring some new changes to the program.
Although there are currently many classes and experiences offered through the program, DLA coordinator Mrs. Lee and the other DLA teachers have plans for this program, such as adding more courses to the pathway requirement and providing more field trips. 
One of the main goals in adding more classes is to provide DLA students with the opportunity to participate in more programs, removing the limitations they faced before. There are 12 classes offered with a requirement of 8 DLA classes to fulfill the requirements for the pathway. The required courses and optional courses are listed in the image below.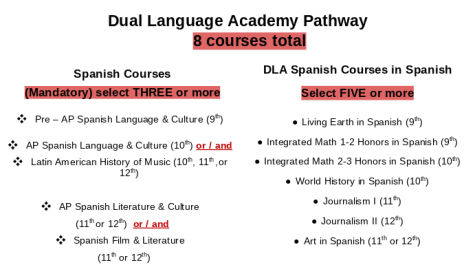 Deciding on the DLA courses to take could be a difficult decision for students who hope to get the most out of their chosen courses, so there are plans to include more classes that can meet these requirements and the requirements for other classes pathways and programs. One example of a possible new course is biotechnology.
For field trips, the main goal is to connect students with the learning occurring in their DLA classrooms to the real world. DLA Freshmen usually take Math and Biology in Spanish, and sophomores take World History and Math through DLA. A field trip relating to these subjects, like a museum, is being considered.   A trip to Spain, or a country in South America, is planned for the summer before entering their 11th-grade year. The DLA Juniors taking Spanish Film and Literature consider a field trip to a Film Festival, while the seniors have plans for a field trip to San Francisco.