Colonistas batallan contra Pomona
Hang on for a minute...we're trying to find some more stories you might like.
El 24 de agosto, los equipos de voleibol de mujeres de Anaheim High School jugaron en contra de los equipos de Pomona High School en la Colonia. Aunque el equipo de Varsity perdió con una puntuación de 3 a 1, las muchachas no dejaron que esto les afecte. En la cancha, se miraban determinadas a ganar, haciendo sus mejores esfuerzos durantes todos sus sets.
Después del juego, hablamos con la jugadora Gwyneth Torreón. Describió el trabajo del equipo entero de la siguiente manera: "Creo que nos derrumbamos muchas veces, pero igual nos volvíamos a parar juntas." Aun así, Torreón sospecha que el equipo no tenía una química muy fuerte durante el juego y admite que tendrán que esforzarse como equipo y aprender a trabajar mejor juntas.
El equipo de Junior Varsity, sin embargo, ganó su juego contra Pomona. Después del partido, hablamos con su entrenador sobre la razón del triunfo del equipo. El entrenador, Oscar Ceja, dijo una sola palabra: unidad. Él explicó que la unidad es gran parte del trabajo en un equipo y definitivamente fue lo que ayudó a las muchachas obtener la victoria . Mirando el juego, uno definitivamente puede ver la unidad del equipo. Después de cado punto, el equipo se juntaba en un solo abrazo, ofreciendo y oyendo palabras de ánimo.
About the Writer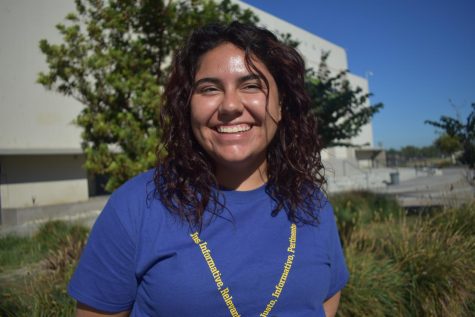 Melanie Cervantes, Reporter
Melanie Cervantes creció en Anaheim, California. Ella tiene dieciséis años y cursa su  último año en Anaheim High School. Ha sido parte del Dual...