Magnolia's New Agricultural Community Project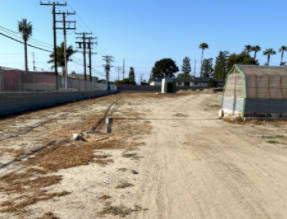 Magnolia High School announces that they will be bringing a new agricultural project to the school; a two-acre space behind the science building that was previously unused is now being transformed into a new asset for the community. 
The agricultural project will create a community space where fruits and vegetables may be grown, providing an educational space for both students and community members to enjoy. The two-acre area has excellent potential for the Anaheim Union High School District, with many plans in store for the future. After being approved by the district board, the project was set into motion. However, funds and resources are needed to make progress to continue with the project. 
With the help of teachers like Mrs.Giakoumis, who have taken an active role in reaching out to organizations and have overseen the project, along with the help of other partners, the project has been able to move forward. A non-profit organization known as the Orange County Master Gardeners is aiding the project by training community members who have no experience in gardening, teaching them about the basics of composting, tree trimming, and pollination. This educational aspect provides community members with the information needed to earn certificates and become ready to train others on the agricultural practices they learned from the course. In addition to this, other partners like Gear Up who are training volunteers to facilitate learning labs offered to the students, providing students with hands-on learning opportunities in agriculture. The UCI science project is another partner providing the project with junior and senior STEM interns at UC Irvine, who UCI will pay to come and teach some of the learning labs during the school day. 
Dale, Magnolia, Katella, and South Jr. High, have science teachers attending professional development to learn how to incorporate the Magnolia agricultural science community center in their curriculum, becoming the first schools to bring their students to the agricultural site at Magnolia. 
Mrs.Giakoumis, a science teacher at Magnolia high school and the co-adviser of the agricultural club, explains how the project will continue to move forward after its construction, "We are going to need volunteers. We're going to need volunteers that come regularly and know how to work the farm. So we're hoping that through the educational piece that people can come out and volunteer two days a week, one hour a week, and help with the farming practices and the agricultural science. Once we have trained and educated people on how to do that, we're going to need volunteers to come in and do harvesting, fertilizing, and composting. There are lots of different ways that the community will be involved. We look forward to bringing in community volunteers and allowing students to earn community service hours, but it probably will not happen until late spring, so April or May is when people can start to get involved."
The agricultural project has been granted an initial amount of $146,000 for this school year by the Anaheim Union High School District to initiate the program. Mrs.Giakoumis shares how the funding may be distributed and the steps needed to gain the funds needed to continue the project. " You'd be shocked by how much money it costs to build a community center where we can educate people that has shade and benches. It will cost close to $100,000 to put irrigation in the ground and prepare the soil. To bring in twelve dump trucks of organic compost to make the soil more nutrient rich, that's about $25,000. Construction costs are huge, so we are actively searching for donations. We're reaching out to supermarkets in the area, so like El Super, Northgate Markets, we're looking into small businesses, and Disneyland. We're also writing grants; I've written three of four grants we're waiting to hear if we got that funding. So right now, to be honest, funding is short, there's not a lot of it, and there are a lot of things that we want to do but can't until we find out we have that funding."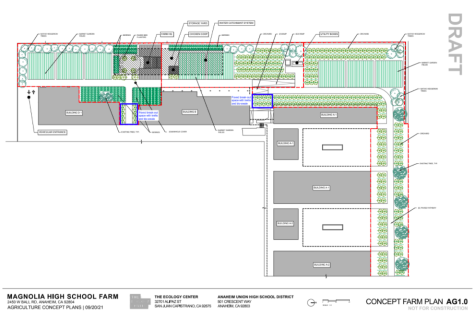 Mrs.Giakoumis states that their hope for the agricultural project is to help the community and provide not only the students but also the community with a new skill in agriculture. "Our hope is not to just hand out free food to people; our hope is that people can understand how to do urban gardening themselves. We live in Anaheim, we don't have agricultural spaces, not like we do in central California where there is lots and lots of land for people to do their own farming; but where people can realize that you can grow tomatoes on your front porch, you can grow lettuce on your windowsill, and to have that understanding and educational knowledge to be able to learn how to grow your own food. So we're hoping that that community is involved with our educational piece so that they can be responsible for creating their own food as well." 
As a final message, Mrs.Giakoumis shares her hopes for the future of this new program, "I would like to say that the hope, and the overall goal, is that we are able to bring all students not just Magnolia students, and I'm so happy to hear that Anaheim High School is reaching out because a lot of people think, 'Oh it's just a Magnolia High School like it's for the Magnolia kids' and that's not true at all. We're hoping to bring every single school site on campus so that they can experience learning labs on our campus. So my goal is to have every single freshman, 9th grader in the next two years come onto our campus so that they can learn science, but in a lab setting. So to be able to learn about the chemistry of composting, they would have a 45-minute learning lab. The Magnolia Agriscience Community Center is looking forward to creating a social and cultural shift in the way that our AUHSD community approaches their own food habits through their education experienced on the farm."