Girls' Varsity Volleyball Comes Back Stronger
Girls' varsity volleyball comes back stronger as they put in the hard work; after the pandemic, they were "a bit rusty at first" but worked hard to improve their skills. The three captains are seniors Lilyanne Rae Chavez (outside hitter), Isabella Ureno (outside hitter), and Jashui Popoca (setter).
The coach for girls' varsity volleyball is Mr. Jose Ceja, described as a "solid (good) coach."Coach Oscar Ceja works with the  JV girls.  According to Jashui, he pushes them to the core and has a lot of expectations of them. This, in turn, is helping them become more disciplined. The captains try to keep everyone united by communicating, encouraging them, and hyping up the teammates after plays. They have all worked extremely hard to improve their skills. 
They have been victorious multiple times because they have a good connection as a team and because of their high energy. After a loss, they shake it off and keep their head up and work even harder. Their practices are on Mondays, Wednesdays, and Fridays and are two hours long. They have recently been having league games on Tuesdays and Thursdays.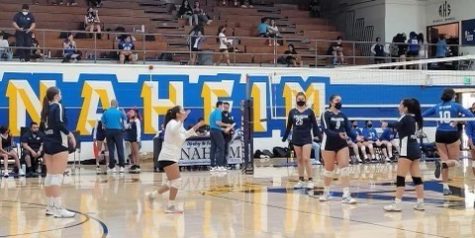 Since freshman year, senior Brandi Hoxworth has played outside hitter. She shares that practices are a fun opportunity to bond with her teammates and make new friends. These girls are off to a great start and have managed to stay united and motivated. Best of luck to them, and make sure to go out and support them on their next home game.