Stray Cats in AUHSD in Need of Homes and Community Help
Stray cats have often found shelter and food at high schools in the AUHSD school district. This led to the creation of OC Community Cats, led by staff members who wanted to help these strays. Through these staff members' dedication and hard work, these cats will hopefully find new caring homes, but they need help from students and community members to do this.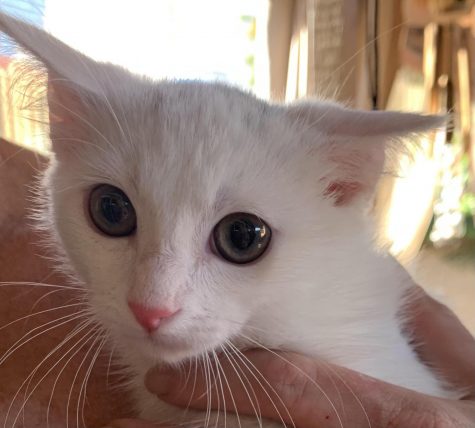 According to Ms. Kirby from OC Community Cats, "We don't know exactly how the cats came to be at the school, or how long cats have been there. Typically cats living outside like these are a human-caused issue. People get cats & don't fix them, so they reproduce. People let their cats outside, so they wander off. People move & abandon their cats, so they gravitate to the school to find food – including rodents at the schools and food waste."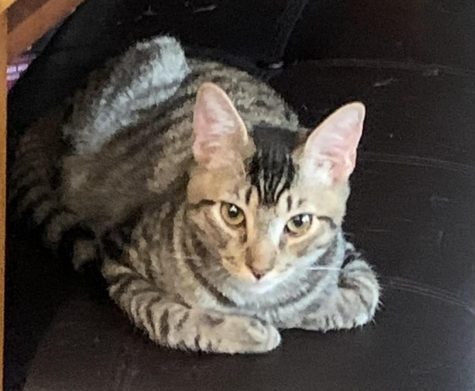 At Anaheim High alone, there is currently an estimate of two dozen cats. It's likely that many more live at the high school but haven't been seen. Because of the number of cats needing to be fixed and the number of kittens reported, the AUHSD Integrated Pest Management Technician asked for help. OC Community Cats decided to take action. Ms. Kirby explains that OC Community Cats (OCCC) is an independent non-profit organization established in 2016.  It has no connection with the cats at Anaheim High School nor AUHSD. OCCC focuses on care for community cats, including colony care & feeding, and trap, neuter, return (TNR). Ms. Kirby is a current volunteer, and Ms. Atwood is a former volunteer. Since both women are AUHSD employees and are knowledgeable of TNR and colony care, they were qualified to spearhead this effort called Cats on Campus.
Although some people would feed the cats on campus, problems such as littering and complaints about cats in the cafeteria arose. One solution that Anaheim High School approved was the installment of feeding station.  Ms. Kirby and Ms. Atwood suggested  TNR as the most humane method of controlling the growing cat population.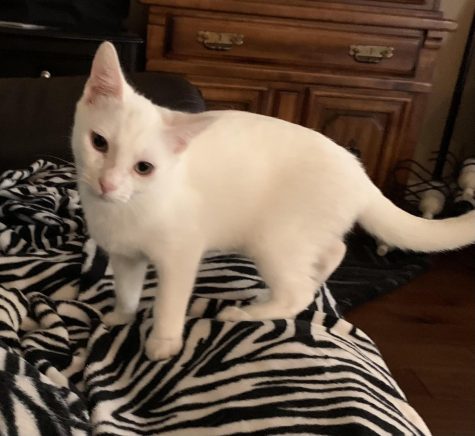 At first, they could use the free program through OC Animal Care, the shelter that services Anaheim.  This program would fix these cats then return them at no cost, and around ten cats were spayed or neutered this way. Unfortunately, due to the pandemic, this program has been suspended. Ms. Atwood has been working on fundraising and applying for vouchers to cover the costs of fixing and vaccinating the cats.
In addition to fixing the cats, the cats themselves can often be challenging to catch and track. Since these cats often appear after school hours, it is difficult to figure out the exact number of cats on school campuses. Ms. Kirby and Ms. Atwood have often relied on custodians to inform their sightings, but even that is limited. Once these cats figure out that they are trying to catch them, they are more cautious and run away. Ms. Kirby hopes to find students and staff willing to help by staying on campus in the evening to observe, take photos, look for ear tips (which means a cat is already fixed), and log their findings. If students are interested in tracking cats, it will first have to be done with a teacher or staff member leading in coordination with Ms. Kirby.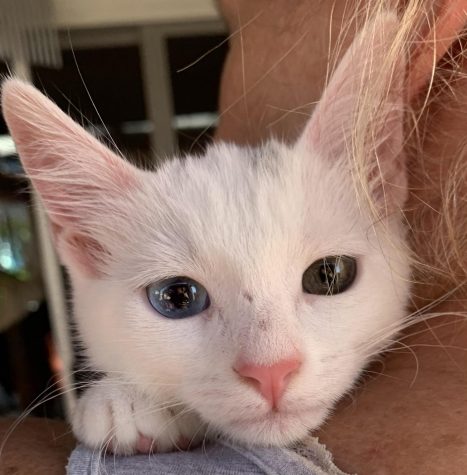 Other good options for helping these cats (if they are friendly strays or kittens) are fostering, adopting, and giving donations of food and money. If any students want to adopt any kittens, contact Ms. Atwood at  [email protected] for more information. As of now, five kittens are ready for adoption. Olaf (white) loves to give kisses with his nose. Kristoff (tiger) chirps when he runs and jumps about. These two kittens are around four months old and must be adopted together as they are bonded littermates. The other kittens are Lilo, Stitch, and Nani, all-white female kittens. Lilo and Stitch are around five months old, while Nani is approximately four months old. All the kittens are named after Disney characters and are waiting for loving homes! 
Fosters for kittens and friendly cats would be so helpful. If you can foster, you must keep in mind that the cats must stay INDOORS. Mrs. Kirby and her team can provide guidance, food, vet care & equipment needed. They would have to vet the people interested and perform a virtual home check to ensure the cats' safety.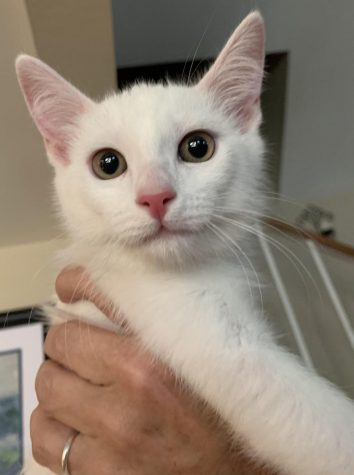 If you still want to help but can't adopt or foster, donations of food and money are always welcome! Cats need fresh food & water every day. Some people feed the cats (a neighbor and a couple of alumni). They have been buying food, so donations of wet & dry cat food would be helpful. There are two feeding stations on campus, which need to be maintained (cleaned, fresh bowls, etc.). Help to feed might be needed. This needs to be led by a teacher or other staff member, in coordination with Ms. Kirby. 
If students or staff members have any questions or concerns about these cats, they can contact Ms. Atwood ([email protected] ), Ms. Kirby ([email protected] ) or can text the OC Community Cats business line 714-866-8075. Ms. Kirby also wants all AE news readers to know, "Please spay & neuter your pets – ALL PETS! Please keep your cats INDOORS. Be kind to all animals."
Correction Note 9/21/2021 12:52 pm: In the original story AE News did not make clear that OC Community Cats was an independent non-profit organization that had no relation with the district and which was founded in 2016. We would also like to clarify that Ms. Kirby is a current volunteer and Ms. Atwood is a former volunteer.  Both of these ladies proposed TNR to control the cat population.  Our article had attributed the latter to the Western HS principal.