Anaheim High School's Aquatic (Swim) Team Won League Championships!
AE News spoke to Coach Osorio regarding their win in May and how they protected themselves from COVID19 during the season. On May 11, 2021, Anaheim High School's Aquatics (swim) Team won their first-ever League Championship.  It has been over 20 years since AHS had an aquatics team.  Since their impressive win was during quarantine, AE News was unable to cover it.   However, we did not want their impressive victory to go unnoticed.
Our Aquatics Coach, Coach Osorio,  informed us how they protected themselves from COVID-19 while having their practices and events. Towards the beginning of the year, the Aquatics (swim) Team had finally gone back into the pool to have their daily practices. Due to the ongoing pandemic, they had to implement some rules that everyone had to follow for their safety. When each person entered the pool gates, they had their temperatures checked and wore their masks. Once scanned, they were allowed to take their masks off. Players kept their distance and sanitized their hands. Anything that touched was sanitized, such as the bleachers and bathrooms. If anyone had called in saying they felt off or sick they were not allowed to come to the pool or school grounds. 
Coach O. explained how she taught the swimmers starting from the basics, pushed them to know that they can be great individually, and recognize the success they could reach as a team. When they all returned to the pool, she mentioned they would practice Mondays through Fridays and sometimes even Saturdays. 
Coach O. had so many different emotions when she found out they had won the league Championships. She said, "It was overwhelming and I was very excited. Excited for our High school. Just to have a new program and to have a great new start, especially since it's been over 20 years since  Anaheim high school last had a pool and program. To be able to start our first year while the pandemic is still happening. To be able to push through and win the championships as we did, and I am beyond grateful for having such hard-working swimmers/students."
Kimberly De La Rosa's best swimming style is Breaststroke. Breaststroke is a swimming style where the swimmer is on their chest, and the torso does not rotate. It's one of the most popular styles because the swimmer's head is out most of the time and because swimmers can comfortably do it at slow speeds.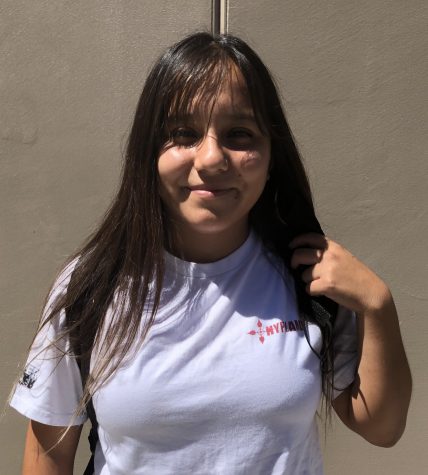 Kimberly De La Rosa had a mixture of emotions when competing in the league championships and when she found out they had won. She said, "When competing, it makes most of us feel a little nervous. I was pretty scared waiting for the scores since Anaheim High school doesn't have a scoreboard." She also said, "I was also super nervous and very scared because I was afraid to mess up and ruin it for the whole team. It's very nerve racking because as a team everyone is counting on you and each other; but when we found out that we won it was really exciting because since the pool had been still recently opened after so long and you know it was our first time and our first year it was all so emotional and very much exciting." 
Lastly, Kimberly De La Rosa, "When Coach O. had announced that the team would be a part of the League Championships, they only had a week to train. It was scary and stressful, as mentioned because we had just started and then Coach O. had said, 'okay we're going to have a game/swim meet next week.' We were all so shocked and surprised. We were all like, "what do you mean we just started again after taking a break." "Last year we did two months of training. I did train during quarantine since I have a pool at home so for me it was basically a whole year, but for all of this; for swimming and in being a team I really appreciate Coach O and everyone who worked so hard and for everyone who is on the team."