The Ongoing Rage of California's Wildfires
Still to this day, California and its people continue to experience the devastating rage of its wildfires and the destruction throughout the state. 
During this year, wildfires have managed to burn more than two million acres of land. That's approximately 150,000 acres less than September of last year, which lost the most acreage due to wildfires. According to the National Interagency Fire Center, 12 actively large wildfires are burning in California.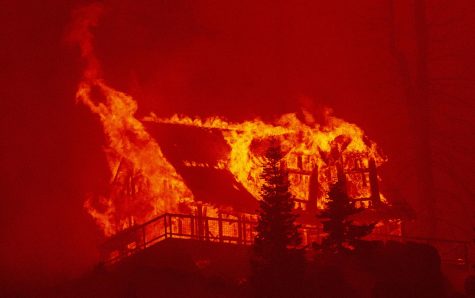 The Caldor Fire remains one of the most active and expansive wildfires yet. There are currently 24,000 structures threatened and almost 1,000 structures destroyed. Since August 14, firefighters have continued to tame the scorching blaze. The fire caused thousands of residents of Lake Tahoe to evacuate because it was closing in on the more popular resort area of the city.
A fellow Anaheim High School student, Miguel Torres, sadly stated, "It's heartbreaking, you know, our state is continuing to burn after all this time while more people are losing their homes. We need to stop these fires immediately."
Why is this happening? To be simply put, it's mainly due to California's changing climate and its people. One of Anaheim High School's teachers, Mrs. Miceli, explains how the mismanagement of our environment also plays a role. "If we don't control the way things are grown or the undergrowth that grows during rainy seasons, then plants will grow out of control," she said. "When we have a dry season, the plants will become more fuel for the fires to burn."
How do we respond to these wildfires? Crew and managers must consider a lot of things when responding to wildfires. They must keep the evacuation process in mind, the type of aircraft, the time of day, whether they should put out a wildfire in the first place, as well as when to bring in aircraft.