We Will Miss You Ms. Giroux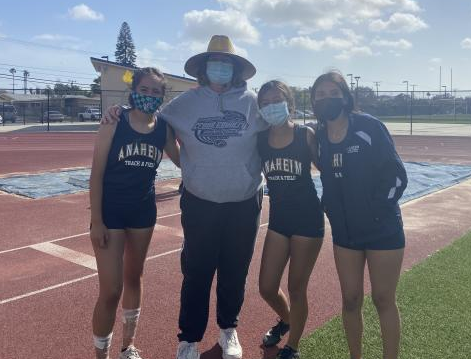 This year, many people went through life-changing experiences. Many people lost their jobs, some had to change their schedules completely, and many decided to retire. This year, in Anaheim high school, there were a few retirees, one of them including our beloved health teacher, Ms. Giroux. 
Many people decided to retire because of the pandemic, and there were a lot of things surrounding the pandemic that changed the school course and will continue to change throughout the years. One of the reasons Ms. Giroux decided to retire was the new learning platform, which meant different and new courses. Another reason was that they were offering an incentive to those who retired, and after thinking it through, she knew that after teaching through a pandemic that she's taught through it all and that it was finally time to retire.
After many people retire, they want to do things they've never done before. Ms. Giroux shares that she plans to travel. She said that she hasn't traveled to all 50 states and plans to when the pandemic is over. She also said that she wanted to travel out of the country to places like Europe and such. She hadn't been traveling much because she's been teaching at Anaheim for years. 
When asked about the hardships of retirement, she responded with emotion. She was a second-generation graduate from Anaheim high school, meaning that she graduated from Anaheim. This wasn't an easy decision to make, and that there were many things that she would miss. She knows that she is going to miss her friends. Especially the ones that have been there for her since the beginning of her career. There were many new teachers that she's gotten to know better, and she wishes them well. 
Of the many years she spent here at Anaheim high school, many highlights made her years here memorable. Some of those highlights included learning things that she used daily and teaching those things to students to help them along with their lives. She coached badminton and had a groundbreaking team that made it to CIF's. She also coached track and field jumpers, cross country runners, and boys basketball, where she coached some of the best athletes throughout her career. And last but not least, she managed to raise 10 thousand dollars to pennies for patients, were in the first years of her career, she had only raised a hundred. 
She said that she wants to continue to coach track and field and cross country but won't be able to coach cross country runners next year because of retirement issues. 
Ms. Giroux has made a big impact throughout her teaching career. When we asked her what impact she made on students, she said that she appreciated everything that she's learned, and when she was studying to become a teacher, she knew that even if she wasn't going to major in health, she still learned a lot. With that being said, she said that the students who took her class, even the ones that failed, still learned at least something that they will know for the rest of their life.