Thomas Edison Elementary School Rocks Despite COVID19
As Covid-19 has hit, many schools had to close, and teachers had to start teaching online. Teachers from the grade levels TK up until the College levels have had to start teaching online to their students.
Thomas Edison Elementary School is a school in Anaheim, California that teaches students from TK-6th Grade. Ms. Nichols, the Principal of Thomas Edison, Mrs. Taylor, a Kindergarten DLI teacher accompanied by her teaching assistant, Mrs. Urias, Mrs. Krieger, a 5th-grade GATE teacher Mrs. Hiromoto, a 6th-grade teacher with a GATE cluster, interviewed with Anaheim Exclusivo. Anaheim Exclusivo was shocked by what these teachers and principal have had to do during these unpredictable times.
In an educational path, teachers and principals need to plan to teach and ensure everything is running smoothly. Ms. Nichols made sure the students and staff at Edison were provided with computers, hotspots, log-in information, and other resources she believed students and teachers needed. As COVID hit, teachers and staff could obtain information by assisting virtual training on what programs they would use to teach their students. Ms. Nichols made sure every student had access to anything they needed to keep moving on with their education, even at home. Ms. Nichols explained, "Since the beginning of the school year, we made sure to check in with parents and made sure every student had some type of device, everyone had a Chromebook, Kinder-2nd grade students received headphones with microphones and a T-Mobile HotSpot device." As a principal at an elementary school, she had to take on the responsibility to respond to this COVID crisis and think of ways to make sure the teachers were receiving notices, making sure the students were getting in contact with their teacher, and making sure everything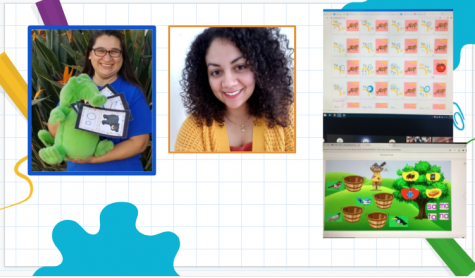 runs as smoothly as possible.
Mrs. Taylor teaches the DLI class to
Kindergarten students. She says, "I am not anti-tech, but I am anti-tech in the primary grades. I think children should learn conceptually." She believes that students should be doing hands-on activities so they can learn. Mrs. Taylor and her teacher assistant, Mrs. Urias, use  Youtube, GoNoodle, Research, Benchmark, and Rosseta Stone, to teach their students. Mrs. Taylor mentions that her students took a while to learn about technology. She said that her students struggled to turn on their cameras and unmute themselves and mute themselves in the first few weeks. She said that once the kids learned how to do all of that independently, she had a mini virtual celebration with her kids because they accomplished the mini-goal she had.
Mrs. Taylor tries to bring an in-class environment to her virtual environment by presenting her students with stuffed animals. She uses a stuffed animal alligator to teach her kids-what the alligator does as it eats a letter. In each letter that the alligator eats, he tells the kids what letter he ate and what sound that letter makes, making the child want to repeat the sound of the letter the alligator is saying. Mrs. Taylor can teach her students in this way by helping them bringing comfort to their virtual classroom. Ms. Urias was asked how she felt her position as a teaching assistant was going, "In my mind, I always thought, I am going to be in a classroom, I'm going to be seeing all these students every day," unfortunately it wasn't the case for Ms. Urias. Still, she says that she is thankful for having such an amazing teacher to look up to and communicate with when planning and joining staff meetings. She is still happy she can see the kids and spend time with them, even if it is virtual. One thing both Mrs. Taylor and Ms. Urias had to do is learn how to write backward so the students can see what is written on their screen, and they are now able to write backwards proficiently.
Mrs. Krieger said that "the district did a tremendous job this year over the summer and the very beginning of the school year of offering multiple training for us, so we can pick and choose what worked for us." She indicated that her teaching plans had changed slightly because they are focusing more on essential standards. Due to online learning and students being distracted easily, she does learning in different chunks, so they learn throughout the day. Mrs. Krieger uses "Seesaw to see students thinking as they write." Mrs. Krieger explains that her students needed to learn to be more resilient with their technology skills because no one stood by their side. She has noticed that her students were able to be more resilient as time went on. Her students can get into the class, do their work, and fix their problems on their own. She says that she tries to bring her in-person school environment to her virtual classroom by showing them how their class looks. As Mrs. Krieger works in her classroom on the school site, she shows her kids how they will be going up the stairs and how their classroom will look like when they can go back to school.
Mrs. Hiromoto also said that she "wanted to try
something new that she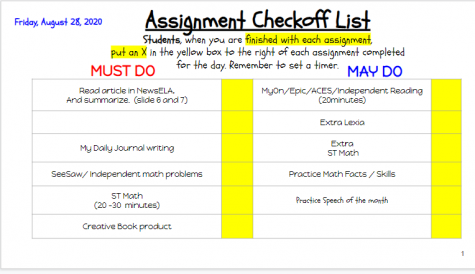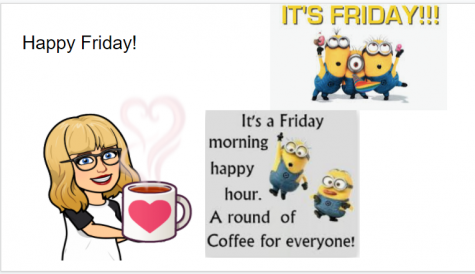 had not done before with technology because I am not as tech-savvy." "With a day of crying and a day of trying, I was able to get through those few days of school, and it made me feel like I wanted something familiar for my sixth graders. I did some research with other teachers and with other people." She tried her best to plan for her class this year by staying communicated with the other teachers in the same grade level. Mrs. Hiromoto uses Benchmark, Student Portal, MyMaths, Khan Academy, Discovery Education, and many more websites to teach her students concepts. She says that after a couple of months in school, she could have one day where all of her students attended her class. She always has mini-goals for herself and her class to accomplish for the day. She sets mini-goals every day that she knows she and her students will accomplish:  being in school the whole day, communicating with her by using the camera or microphone, or any other ways to see students are participating and are engaged.
Teachers "have their hands full with double or more than double the work they used to have when they were in-person teaching," said Ms. Nichols. These teachers say that they all have good days, bad days, and some days when they celebrate because their students learn a new number or learn how to turn on their camera or unmute their microphones. These teachers are glad to keep learning more about this technology, but it is seen that they would prefer to teach in person because that is what they enjoy doing the most. The extraordinary teachers are doing their best to keep their students active, participating, and just moving on during these tough times. On a scale of 0-10, these teachers were asked that 0 being an epic fail and 10 being a success daily, what their virtual classroom was like. The teachers say that they are around 3-7 on the scale because there are so many complications during each lesson, and students not feeling motivated.
This is an insight into how teachers feel as they work from home and make plans for their next day. "With a day of crying and a day of trying," all the teachers and principal are working their hardest to help the students learn as much as they can with what they have now. Ms. Nichols says that all of the teachers at Edison are "#Awesome." In conclusion, these teachers are making the best they can with what they have daily and fulfilling their part as a child's teacher and school Principal.