Quezada Introduces Her Five Platform Plan for District 5
 The city of Anaheim's 2020 General municipal elections is yet again upon us. Amidst a global pandemic and unfortunate events occurring in our world, it is more crucial now than ever to cast your vote on November third.
Being the youngest candidate running for Anaheim's city council (25 years of age) in Anaheim's district 5, Quezada shares her vision regarding Anaheim's future.  Quezada's vision consists of five important platforms. The first platform Quezada is establishing is a Universal Basic Income (UBI). "Most of our families here in Anaheim are around 400 dollars away from having their basic needs met. Four hundred dollars away from paying their bills, food, and daily necessities." Quezada states that a universal basic income is necessary to provide more sustainable living conditions for Anaheim's families. "This income will be a supplement and will be able to assist us in pursuing those needs. "Quezada supports her claim by stating statistical evidence of case studies that were conducted in other cities in California, showing that a universal basic income indeed does help contribute to financial support for families. 
The second foundational platform Quezada shares are establishing a K-12 checking account for students. "A set amount of money would be open and over the years would be accumulated through partnerships with private and the public sector.." Quezada's vision for a K-12 checking account means that once students are in their senior year and at the point of transferring to college, they will have a large "pool" of funds waiting for them to help support their educational expenses for college. 
The third, fourth, and fifth platforms primarily support the ideology of creating better-paying jobs for citizens in Anaheim. "We have different options.. as a city, we can increase the minimum wage or provide more community workforce job opportunities.." Quezada provides a proposal for creating more job opportunities in our community through city-funded projects. Certain demographics can be eligible for these job opportunities as long as they qualify and are residents (middle-class careers).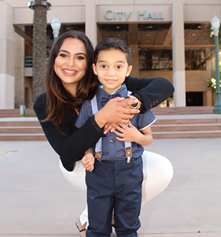 Besides Quezada's proposals of livable wages and promoting job opportunities, she also provides her thoughts on the impact of homelessness in our city. "It is not an easy task..it is something all of California struggles with, but I do have a solid goal in mind.."
Quezada proposes to provide low-income housing for homeless people. Quezada points out that homeless people struggle with mental illness, so she encourages more programs to overcome their struggles. 
Recent events such as the Covid-19 pandemic have also had an impact in Anaheim communities these past months. Evidently, there has been an increased concern involving the equity of cleanliness in our communities. Quezada also decided to give insight into this topic and provided us with ways we can restore the equity of cleanliness in our communities. "We need to include larger trash bins along with recycling and compost stations."
Quezada states that lower-income communities often show fewer cleanliness signs due to the lack of available recycling/compost resources within the neighborhoods. "We need to increase the route of trash to go to more neighborhoods. We need to focus on our public health." 
Quezada also mentions the concern of public schools opening. "We're going to have a second wave of covid.. is Anaheim going to be ready for that? We need to educate our students on public health."
Quezada connects all these topics back to her main proposal. She mentions that most of these issues will be solved as long as communities have access to a Universal Basic Income.
Quezada has this to say as to why she is the best candidate for the city council, "I'm a fair, pragmatic leader.. I've been here my whole life, and I understand every single aspect of Anaheim as a whole. I can relate to my community on different levels coming from a low socioeconomic background…"We can beat the statistics! Su voto es su poder!"