The  Indestructible Road Paved by Ruth Bader Ginsburg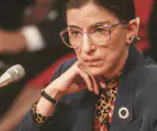 On September 18, 2020, at the age of  87,  Ruth Bader Ginsburg passed away due to pancreatic cancer. During her 87 years of life, she proved that being a woman would no longer be a barrier to success. 
"I hope people will think of me as a good judge." Ruth Bader Ginsburg has been viewed as more than a good judge. She was a pioneer for women's rights, a fighter for justice, a global icon while having a life of her own, and being a mother.
In the eyes of conservative men, Ruth Bader had all the world's odds against her. Ruth was a woman, she was of Jewish descent, and had children to care for. 
 Ruth Bader attended Cornell University. Here she met her life companion. They got married and had children. Both continued their education by attending Harvard Law school.  Ruth was one of only nine women of 500 law students. Consequently, these 9 women were asked why they attended Harvard taking the place that a man should have been given. She was reminded daily that she was a woman, but that did not stop her from obtaining higher grades than those around her including her husband.  She transferred to Columbia University, graduating as one of the top students of her class.
Although, she had one of the best curriculums Ruth continued to face gender discrimination. She was not hired at the law firms she applied. When she became a law teacher she was paid less than her male companions. She spoke up but found no equality nor did they give a reasonable reason for why she was being paid less. 
Ruth continued her path into the American Civil Liberties Union where she Co-founded the Women's right project. While working in the Women's Rights project they worked over 300 gender discrimination cases. Ruth made sure to not only advocate for women but she fought for the equality of men as well. Ruth fought for job protection for both genders, agreed with same-sex marriage, and fought for males and females to have access to the same resources. Justice Bader Ginsburg was a staunch defender of birth control and allowing women to keep their jobs when pregnant. 
On August 3, 1993, Ruth Bader Ginsberg was announced as Associate Justice of the Supreme Court.  She stood by immigrants, the legalization of same-sex marriage, brought equality to disabled citizens, and never stopped fighting for women's rights.
This woman has paved the way for women now and all those to come. Gender should not be the definition of what we can and cannot achieve.  A legend might have been lost but not her legacy.  She paved a road that will continue to grow by those who choose to follow her path.